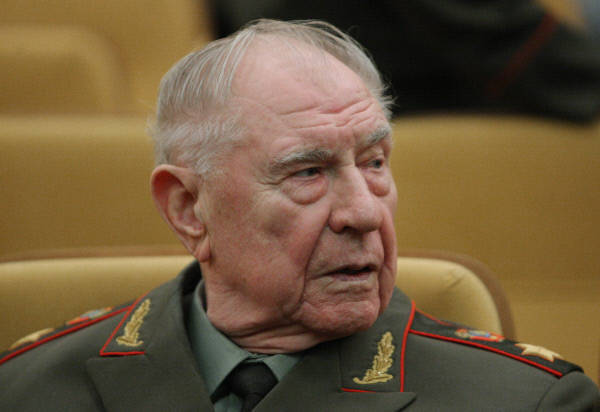 Dmitry Yazov is the last marshal of the Soviet Union. His life has incorporated all the earthly faces and sections. Full-height attacks, sharp ups and sheer falls. He held in his hands the notorious Soviet nuclear suitcase, was in prison, passed the earthly trial and
historical
. He still holds his back straight and looks life not just in the eyes - in the pupils.
First shot
My childhood was very short, my father died in 1934, when I was nine years old, the carefree time immediately ended, my mother left a ladder of four children.
As I remember, mother says: you have become the main man in the family, we must make sure that we have firewood for the winter. I traveled by a bullhead, collected branches, brushwood, and by the winter we had almost full crumbs turned out to be brushwood.
I studied generally well. But voluntarily I spent a year in the 4 class, I had to go to study in another village, we have a four-year school, and I didn't even have a normal shirt.
1941 year, I moved to the 10 class, and then the war. I think to myself: how is it? We have such a powerful Red Army, strong, break the fascists, we do not even have time to make war, shoot. Let's go to the draft board. Once they came, they let us out, the second time. And then more or less began to relate, how old are you? I jokingly say - 18 already. Oh, OK. And we were recruited by 6 people and sent to a military unit. Thus, I ended up at the school of the Supreme Soviet in Novosibirsk, it was there in evacuation. 28 November 1941 took the oath.
And on July 17, 1942 of the year, an order was issued to confer us a lieutenant rank, and forward to the front.
And I haven't had 18 yet, I was born on November 8 of 1924. It was 17,5 years. Our battalion was sent to the Volkhov front. I remember that on the log flooring, in the swamps were miles 50. We come to a clearing in the forest, there is a man of 400 officers. We were attached to the left flank, I have no idea why that. Look, lead junior lieutenant without a belt, without a cap, zachuhannoy. There is a division commander, the head of the political department, the chairman of the tribunal, the prosecutor. Reads the solution: shoot for cowardice. We were shot before our eyes. In the swamp, in the slush in this one, they dug something like a grave, and in the back of his head he fell.
The feeling was terrible, they looked at each other, everyone understood. This was already when Stalin issued an order about deserters and shorts. And, apparently, using the situation, we were shown this order in action. That junior lieutenant commanded a platoon, the Germans launched an offensive. He ran away. And the platoon repelled this attack, he was caught in the rear, where he was hanging out. For cowardice shot.
Then it seemed to me that it was cruel, now I think that it was necessary. What are you commander when a platoon threw?
The whole trouble is that very many people think: we have a lot of land, and we can step back. While they thought so, the Germans began to approach Stalingrad itself. Either we understand the need for the strictest compliance with the order, or we will ruin our country and state. So the question was seriously raised. Remember "They fought for the Motherland" Sholokhov? Here and there, we go down to the women and so on. In order to have the strictest discipline, penal battalions and punitive companies were created. Some say: here's the penalty box won. They did not win anything, they did not shoot at anyone. But everyone who thinks to retreat knew that they could get there. Penal companies in the army acted. Penalties at the most critical area or defended, or attacked. They called criminals from prisons. Who succeeded in fulfilling the first order, everyone removed the conviction, and life could be started from scratch.
Deep lenses
I never dreamed of war. Usually in a dream you see what was said recently, something so close happened.
I was in the army with 17 years, but I never learned to swear. I think the mat is good on the farm
Only a mother sometimes comes to me in a dream, with the mother of a man the most durable umbilical cord. I did not have such that I saw the front in a dream. Nayavu, now speaking to you, I remember so many moments.
I remember how the junior lieutenant was shot. Like a shell hit right in a soldier. There was a soldier, and he is not. Thorax, and from there the steam goes. No hands, no legs. Just a rib cage. And steam ... Head to the side. Come, collect all the remains and bury them there.
Yulia Drunina said well: "Whoever says that in war is not terrible, he does not know anything about war." When a gun is aimed at you, it seems scary, it seems not scary. It seems that come what may. When you go on the attack, when the firing points are not suppressed and you feel - come what may. It is terrible, while you think that you need to rise to full height and lead the attack. Very scary. And as he jumped up, there was no need for anything.
We, the young boys, it was easier, and 50-year-old soldiers raised foul language.
I could not swear. You believe that you haven't learned to swear from the 17 years in the army, I think that the mat is good on the collective farm, when the bulls do not obey. And with people it is impossible.
I was a kid compared to those soldiers who came across Lake Ladoga from besieged Leningrad, with faces swollen from starvation. An interesting detail: these elderly soldiers never abandoned their stuff. I somehow tried to look, but what's in that bag. Some tops of boots, soles, some kind of rag. Why do you need it? And he says: what if I get hurt. And I'll go home, and this will all come in handy. The man in that hell was thinking about the house.
Here the writer Victor Astafyev wrote very blackly about war, I would say hysterically. You know, Astafiev didn't go on the attack. He was only a signalman.
Viktor Petrovich was a talented man. He could describe in this way how some spikelet grows from the seed, what grass makes its way. Strong literary talent. But at the same time, where something concerns the main point, everything is bad for him: a bad commander, bad leaders, a bad ideology. It's all about the human perception of the world, for everyone it is their own. Causes in our inner depth lenses ...
Khrushchev
Khrushchev ... I still keep his report at the Twentieth Party Congress. There is the soloist offended starling Khrushchev.
Stalin poorly led the army, Stalin developed operations around the globe. How can you believe it? But not a historian will believe, millions and believed. Khrushchev had a deep personal resentment towards Stalin because of his eldest son, Leonid, who was killed at the front.
Where did you die, how did you die? Nobody told us about it. But some comrades officially wrote that he was killed in a partisan detachment, shot him for having flown to the Germans. No matter how much they looked for, where the plane, which was piloted by Leonid Khrushchev, could have fallen, could not find anything anywhere. But where did this plane go? They could not but know where he flew, with what task. Where they fell, they did not find anything, and so far nobody knows anything.
Khrushchev turned to Stalin: save his son. And he asked him: "Do you, as a father, address me or as a member of the Politburo?"
- Like father, comrade Stalin.
- What will I tell other fathers?
This information is reliable, being the Minister of Defense, I read interesting documents.
Yeltsin
Why did Yeltsin, secretary of the Sverdlovsk regional party committee, suddenly become the leader? His main driving force was resentment. Gorbachev needed to understand this. The secretary of the Moscow city committee of the party, the head of the largest party organization, goes to political bureau candidates, and Alexander Yakovlev walks in political bureau members. It was a shame to him, it was noticeable. I sat with him at all receptions nearby.
Here he is, when Gorbachev began to say that we are doing this and that - he said: you do not do anything! Poorly said about everything that is being done. The whole bouza started with this.
It all starts with personal insults, with some inner ambitions, we have a nesting box in our souls, and like starlings they get drunk and go out.
Special communication with briefcase
Say, I have a wooden chair, uncomfortable, with a low back. Normal stool. I am a Siberian, accustomed to be content with little. In my childhood the most formal shirt was sewn from a waffle towel.
As Mayakovsky said: I like my wife, and that is utterly pleased. What does this give, wealth?
People who have become rich for no reason at the expense of the property of others, state property, state land — they are empty inside. Here he goes - the navel of the earth. Who is he? Tomorrow, change the power, as in the "Wedding in Robin", these assignments will change the budenovka to something else. How can a person make a billion? For me, this is space.
He has to assign something. Or other people's wealth, or someone else's work. You say communism is not authoritative. Has anything changed? As the capitalists appropriated the labor of others, they appropriated it. What did Marx call it? Surplus value.
When I was the USSR Minister of Defense, I didn't want to have security, I didn't need a ZIL car either. But it is impossible without it, only the "ZIL" was equipped with a special connection, I'll go for the mushrooms, and a special connection officer with a briefcase follows me. Humanly, this was painful for me, but the post required me.
I have our 11 orders on my tunic, 20 medals, about a dozen foreign orders. They are physically hard to wear, I don't go anywhere with orders, only at parades when I went, I was in orders. And so I never even pull my tunic out of the closet. I only put on a marshal's star, that's all.
What is the pension of the Marshal of the Soviet Union? - 60 thousand. We live together with my wife, we have enough
Misconception time
Do I have people who will not give up? There is. Those who have changed the country. Pasha Grachev not filed. He had a lot on cynicism. Today is some kind of rukopodavodimoe.
Understand that the Emergency Committee introduced the troops not for some victory over some people, but was introduced just to protect the university, the water utility, Gokhran. The situation in the country was awful - the army had nothing to pay. All those on the state budget should have raised their paws. That's what all went. And we went to Gorbachev to impose a state of emergency in order to bring everything back to normal. But he did not accept us, he thought that America would give money. In giveaway, he played with America, in giveaway. They need to ensure that we do not have missiles. What are Americans afraid of? That we will launch missiles on them. Everything. And more they are not afraid.
Do you know why the GKChP lost? Honestly, because it was necessary to work with the people. And they thought that
Tanks
entered and all.
My conscience is clear, I did not bother before my people, although I had, so to speak, an opportunity. Forces were with us. I was offered to take all the airfields by airborne troops. It was worth nothing to give the command, and all. But what would it lead to? Only to blood. In the name of what? For the fact that I feel sorry for my own skin?
I never treasured it. You have to be above your ambitions. It is sometimes difficult, but possible. Believe me.
What did I feel after the arrest? Yesterday, the nuclear briefcase of the largest country in the world was in the hands, and today it is a prison cell. Do not want to talk. Everything is experienced already. Got sick. Most worried about the old mother, she was then 88 years. The rest of my loved ones were all younger, and therefore stronger.
About pensions and rags
What is the pension of the Marshal of the Soviet Union?
Approximately 60 thousand. We live together with my wife, enough.
I once had a luxurious apartment, I lived near Gorbachev, he was on the 4 floor, I was on the 3 floor. The apartment is large, beautiful, one dining room 80 square. meters, 5 rooms. In the 1991 year, as soon as they put me in, they came to my wife and asked to vacate the apartment, and Gorbachev divided his apartment into two parts — my daughter and granddaughters arranged apartments.
When I was in prison, Luzhkov gave my wife an 3-room apartment, and we live in it. Everyone is happy.
My life is coming to 90 years, but I still do not understand why a man needs all these rags and precious stones. We become slaves of all this.
"The moment will come, we will rush away without a trace"
Where does my love for poetry come from? I was always drawn to knowledge, to education. It can be seen from the fact that he lost all this in his childhood. I read Pushkin, Lermontov, Mayakovsky.
Once a single birthday was celebrated for one person, on which Vasya Lanovoy read Pushkin, brilliantly read. Then he says, oh, I can't continue, I forgot. And I continued to read indiscriminately, from Rousseau to Manzoni.
Even today I can tell Lermontov's "Masquerade".
I love the poem "Who Lives Well in Russia" - there is simply folk music "Oh, the shadows, the shadows are black, whoever you catch up with, whoever you overtake, but only blackshadows cannot be caught-hugged." This is the soul of our people.
Happiness? This is a moment, a moment. There is no rose without thorns that thirsted for the heart ... an hour will come, we rush off without a trace.
I never learned to believe in God. My mother was a believer, all the time praying to God. The first husband died - her sister dies here. There are four of us, and there are four of them. She became a mother to everyone, she carried everything on herself. All the time misfortunes fell on her, and she prayed all the time, then she stopped praying and told me that there was no God.
Friend?
A true friend of mine was my first wife. I could share everything with her. So it came together that she became both a wife and a friend. A friend in the full sense of the word happens in life once or not at all.
I haven't been dreaming about anything for a long time. Like everyone, health want to not be a burden to anyone. 90 turns me on that year. On the one, not on this one, as the journalists wrote. Apparently, they wanted to speak loudly, otherwise the old man would not live.
Tears?
I only cry for joy. I can see something beautiful and cry. And do not hesitate about it. After all, crying with joy is much better than weakness.