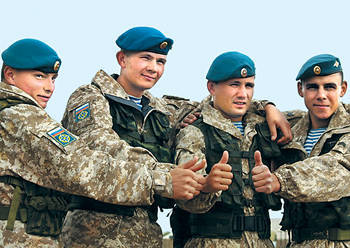 By the decision of the commander of the Airborne Forces, Colonel-General Vladimir Shamanov, for subunits staffed with contract soldiers of at least 85%, a five-day work week has been introduced since December of this year. "The model regulations have been established for servicemen undergoing military service under contract in the positions of soldiers and sergeants in the units intended to perform special and peacekeeping tasks. Exceptions to the regulations are activities that are held without limiting the total duration of weekly working time: combat duty, daily outfit, business trip, and others, "said Major Irina Kruglova, spokesman for the department of the press service and information of the Russian Defense Ministry on the Airborne Forces. General Shamanov himself said about innovation: "This decision was primarily made in order to increase the attractiveness of military service under the contract, respect for social guarantees, and improve the quality of vocational training."
The Ulyanovsk Air Assault Brigade, which is currently the only unit in the Airborne Forces, was the first to enter the five-day service, with 100% staffed by contract servicemen. In addition to the Ulyanovsk paratroopers, the new regulations will now be served by units dominated by contract soldiers in the Ivanovo, Tula and Pskov airborne units. They were presented with a full two-day weekend.
We also note that recently in the Armed Forces all contract servicemen strictly rationed the working day. It starts at 9 in the morning and ends at 18.00. On the eve of the new school year, this was announced by Colonel-General Viktor Goremykin, head of the Main Directorate of Personnel of the Military Department. The new model regulations for the service of military personnel under the contract was introduced by the Minister of Defense into force from November 27. The struggle for a clear rationing of the working day of military personnel was fought with varying success for about 20 years. It seems that the problem was finally solved.