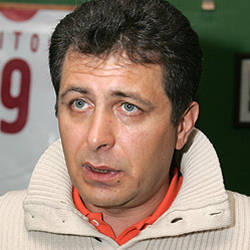 In fact ... the so-called "Yugoslav scenario" for the modern Ukraine - is, alas, are not "horror stories". And one of the most likely (because natural) scenarios.
It's just that for the entire post-Soviet period, the newborn "republic" has never been able to bring forth from itself into the light of God not only a more or less intelligible state that could hold this rather patchwork territory together, but also did not articulate - or perhaps could not articulate - no intelligible unifying ideology at all. Moreover, the most ridiculous thing in this whole process is the fact that even now (during, so to speak, the "national revolution"), the main issue is not the realization of national interests. And just a global dilemma "under what plan to lie": under the "western" or all the same "under the eastern." And this speaks only about one thing: modern Ukraine, just like the socialist Yugoslavia in its time, is nothing more than an artificial state-territorial entity.
And in principle, in terms of European
stories
There is nothing terrible about this: in general, such formations in Europe are complete.
Beginning with historical Germany.
Even in my beloved Bavaria, the "Bavarians" easily distinguish themselves from the "Franconians" and "Swabians", what can we say about any "Sudeteners" there. And nothing, live. And this is only Bavaria. But there is also Saxony, Thuringia and, in fact, Prussia, which in the end, all this Deutschland was "organized" by itself.
So - everything is quite possible. And for this you need a little: a sane unifying idea, a tough power that does not fear bloodshed, as well as neighbors who are not inclined to want to warm their hands at someone else's fire, for various reasons. Well, and most importantly - time.
So. None of these four factors in modern Ukraine there is not expected.
But what her "is not foreseen" especially, you excuse me, is precisely this time and vegetarian-like neighbors. Well, consider it out of luck.
And if you add here the actual absence of intelligible armed forces and absolute, as recent events have shown, professional unwillingness to suppress the riots of other power structures, then the picture turns out to be quite depressing: unlike quite unhappy Egypt, Ukraine cannot even count on your army.
And now I don't need to tell anything here, we also did this in 90-e, when the army of a great power was almost "defeated" by ordinary gangsters in the first Chechen - in Ukraine, I am sure the process is much more neglected. So the army as a combat-ready unit to take there is simply nowhere.
So now think for yourself if the Yugoslav scenario is possible on the modern territory of Ukraine or how.
And at what particular stage in this scenario will the Russian Federation be forced, namely, forced to intervene in the event of its further "Balkanization": in Ukraine there are all prerequisites for this, including elements of religious hatred. And not only in the Crimea.
... I'm not happy. I'm really terrified. But I just want to remind you: ethnically the same Serbs, Bosnians and Croats are generally the same people, they don't even have "separate" languages, they speak a single "Serbo-Croatian". And how enthusiastically they cut each other - probably, no one needs to be reminded.
So it goes.