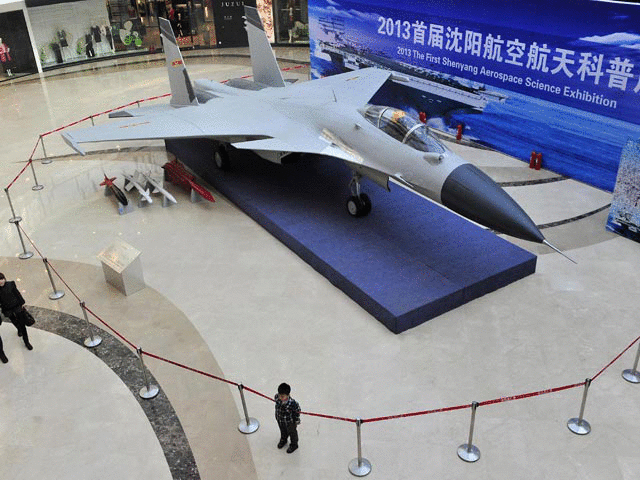 China launched the industrial production of military aircraft copied from the Russian deck fighter Su-33. The Chinese copy is called the J-15 (Jian-15) Flying Shark, and the prototype appeared in the 2010 year, reports the Xinhua news agency.
According to the report, the production of J-15 was launched at an aircraft factory in the city of Shenyang in the north-east of the country. The Chinese naval forces have already received the first aircraft and conducted test flights. By the way, J-15 is China's first attempt to create a carrier-based fighter.
Note that the prototype T10K of Soviet times, which went to the PRC from Ukraine, was taken as the basis for the Chinese fighter. In 2010, Chinese engineers had to pretty much work on the problem of the folding wing of the deck fighters. As a result, in 2013, after rigorous testing under bad weather conditions, the fighter was put into mass production.
According to the Russian Planet, referring to the information of the Chinese military network, the J-15 fighter jets will help improve the aircraft carrier Liaoning, which is currently the only aircraft carrier of the PRC army. By the way, the Chinese authorities also bought it from Ukraine, which the Varyag (as the Soviet Navy ship was originally called) went to in 1993 under an agreement between Ukraine and Russia. In April, the unfinished aircraft carrier 1998 was sold to China for 20 million dollars, ostensibly for the construction of a floating entertainment center and a casino.
Earlier, Beijing was trying to purchase two Su-33 aircraft from Russia in order to take a closer look at the model's flight performance. It is worth noting that initially China planned to buy 50 fighters of this class, but later announced its intention to purchase only two aircraft "for trial". Moscow then refused to sell, fearing the leakage of technology.
In addition, the Russian authorities were afraid of repetition.
stories
with a J-11 aircraft. In the 2008 year, Russia, wanting to enter the Chinese arms market, handed over to Beijing a "screwdriver" assembly of Su-27SK fighters, but this step did not justify itself. As a result, China discovered the technology, upgraded the aircraft and began to establish mass production, calling it J-11. Note also that China has already started mass production of the J-10, J-11 and FC-1 fighters, which are replicas of the Russian Su-27 / 30 and MiG-29.