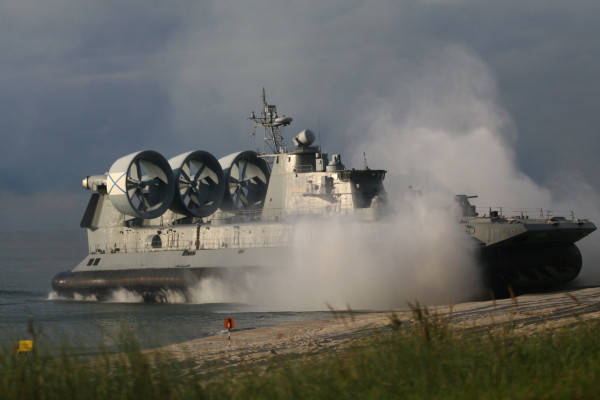 In Kaliningrad, the repair of the world's largest hovercraft project 12322 "Bison" is being completed.
Such ships in service with the Baltic
fleet
two - "Eugene Kocheshkov" and "Mordovia". The latter participated in recent international exercises Zapad-2013 in the Kaliningrad Region (Belarusian guardsmen landed on it on the unequipped Baltic coast).
"Yevgeny Kocheshkov" is at the Yantar Baltic Shipbuilding Plant, where specialists carry out repairs on propellers, fuel tanks and the bottom, the information department of the Baltic Sea Fleet's press service informs.
Also, shipbuilders will install a new flexible fence, the so-called "skirt" of the amphibious ship, under which the airbag is created.
It is planned that the plant workers will complete the repair by the end of this year, after which the ship will return to its permanent location - in Baltiysk, and after passing a number of course tasks, it will begin to perform combat training activities.
Help "RG"
The 12322 Zubr small airborne amphibious assault ship is designed to receive naval assault forces with combat equipment from equipped or non-equipped shorelines, transport by sea, land on the enemy's coast and fire support for airborne troops. Due to the design features of the air cushion, it can move on the ground, bypassing small obstacles (ditches and trenches) and minefields, move through the swamps and land troops in the depths of the enemy's defenses. For MDKVP "Bison" is available for landing assault troops up to 70 percent of the total length of the coastline of the seas and oceans of the world.