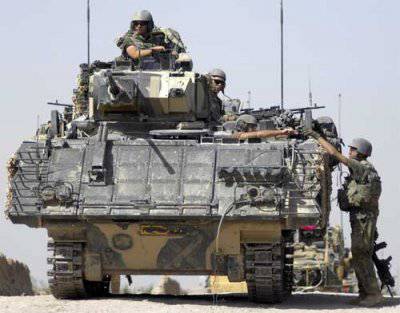 The US Ground Forces (SV) determined the final terms of the tender for the manufacture and subsequent delivery of the AMPV (Armored Multi-Purpose Vehicle) multi-purpose light-armored vehicle.
Throughout 2012-2013. preliminary information on the conditions of the competition has already been published, but it was finally clarified only now. This was announced by the American weekly "Defense News".
Despite sequestration and the process of further reducing the military budget to billions of dollars, the AMPV program is not likely to be significantly curtailed. The construction of 2907 machines for 13 years is assumed. The cost of one unit is approximately 1,8 million dollars.
In October, 2013, the US SV, published information according to which the provision of a contract for the production of AMPV was postponed for a year. Its value has increased by several hundred million dollars. It was assumed that the AMPV vehicles would replace outdated tracked armored personnel carriers (BTR) M-113.
Under the new terms, an agreement will be concluded on 5 years with one supplier in May 2014. First, 29 machines will be produced for official testing, and with 2020, the head lot will be released. Initially, 29 million dollars were allocated to the test phase of the 388 AMPV units, and the tests themselves were planned to be carried out in f. 2014-2017 fg. Then the funding for this stage was increased to 458 million dollars, and the dates were shifted to FN 2015-2019. However, on November 26 the announced amount was reduced to $ 436 million.
The amount of financing for the production of 289 AMPV machines in the framework of the release of the head lot eventually increased from 1,08 billion dollars to 1,2 billion dollars. The total amount of the cost of issuing AMPV before the start of mass production will be 1,68 billion dollars. In the military budget for 2014 f.d. CB USA requested 116 million for the development of this program and Congress allocated these funds.
The contract for the production of the main lot of AMPV machines will be transferred to one contractor. The main competitors are BAE Systems (BAE Systems), which introduced the Bradley version of the infantry fighting vehicle (BMP) without a tower combat module, and General Dynamics, which offered Stryker BTR with W- shaped bottom, as well as a tracked version of the same armored personnel carrier.
The AMPV program is gradually acquiring special significance as the US Army abandons the development of heavy and expensive infantry fighting vehicles as the main infantry fighting vehicles. However, the future of the project and its financing will remain unclear for several months - until representatives of the Department of Defense prepare a five-year plan for changes in the US military budget, which must be approved by the Minister.