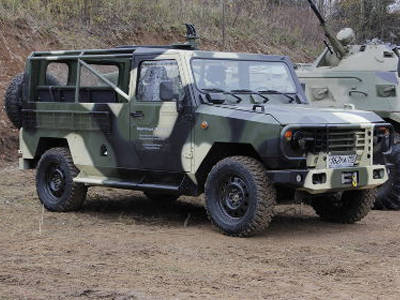 The Russian Ministry of Defense completed state tests of special army vehicles of the Scorpion family. On this, according to Interfax, said Alexander Shor, CEO of the corporation "Protection", producing machines. According to him, the military department recommended the Scorpions for adoption. Machines can be adopted after the passage of the interdepartmental commission.
Army vehicles "Scorpion LSHA-1" with an open top, "Scorpion LSHA-2" with a hard metal top and an armored vehicle "Scorpion LSHA-2B" took part in state tests. State tests of machines were conducted from 1 November 2012 of the year to 30 of September 2013. According to the Ministry of Defense of Russia, tested cars meet the requirements in terms of technical specifications, and in terms of mine protection and resistance to incendiary mixtures have exceeded the requirements by three times.
At the end of September 2013, it was reported that the Russian Ministry of Defense intends to acquire in 2014 a pilot batch of transport vehicles Scorpion-2М. According to Shor, the order for experienced cars will be several dozen for each of the series that have passed state tests. Preliminary operation of the purchased cars will be carried out within the next year.
Scorpion vehicles are designed for the transportation of military personnel and goods on various types of roads and off-road. Up to eight people can fit inside the car. The vehicles can be equipped with a combat module produced by the Kovrov plant named after Degtyarev. The Scorpion is equipped with a horsepower 116 diesel engine and is capable of speeds up to 130 kilometers per hour.