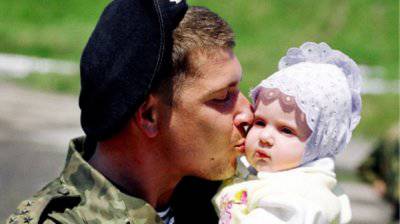 Military single fathers equalize social rights with their female colleagues.
The draft law, developed by the Russian Ministry of Defense, proposes to grant contract servicemen who bring up children up to three years old alone to take care of a child. And before the child reaches the age of one and a half, a monthly cash benefit will be paid.
In our army there are a little more than 40 thousands of female contractors. How many are single fathers - while no one counted. If the bill is approved, our military will approach Western standards in terms of their social protection.
It was on this occasion that the Constitutional Court had to meet twice. This
история
started in 2005, when the son of Konstantin Markin was born to the military. The command refused to let the man go on leave to care for the baby. Refused on the basis of the norms of military law. Markin reached the Constitutional Court and in 2009 heard that defense required restrictions for the military. In 2012, the European Court of Human Rights ruled in his favor. In Europe, it was said that the challenged norms of the Russian military legislation violate the right to privacy. Markin again went to the military courts and began to demand a review of his case. But now the military judges themselves went to the Constitutional Court for clarification.
A lone military father will be granted parental leave and a monthly allowance
The situation was difficult. By law, the decisions of the high court are final and do not change them. But we have signed all the international documents by which we recognize and implement the decisions of the European Court of Human Rights.
So, it is necessary to develop a law that would meet all standards.
It is a complex legal conflict that can be explained by the fact that the Ministry of Defense developed a bill that gives male military personnel the right to take leave to care for a child. Experts believe that the collision was caused by the conflict that arose in connection with the case of Konstantin Markin.
Well, Markin himself over the years, while the courts went, the son grew up. His command also gave a leave to the military father at that time, although there were no special laws at that time.