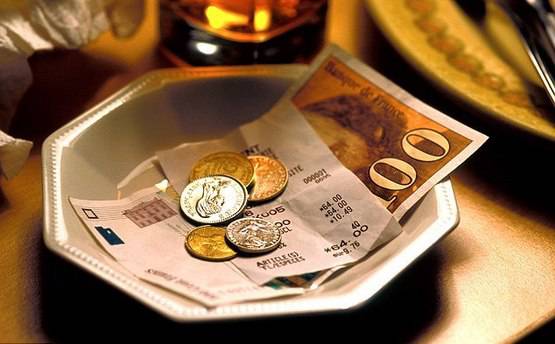 The welfare state, built in Europe, is the most stable myth of citizens of the post-Soviet republics. The main component of this myth is the high level of wages received by citizens of the European Union. To earn "as in Europe", that is, very much, is one of the goals, including the ordinary Ukrainian, who is eager for "Euro-Association".
How much really?
The real state of affairs with remuneration in 28 EU countries is far from lined up myths. Salary statistics allows you to select at least three Europe. Not always in better-off Denmark or Sweden, they work harder and harder than in "new democracies" like Bulgaria or Latvia. But they pay there definitely more. On average, in Denmark a year earns 56 299 euros, in Germany - 42 900 euros, Ireland - 46 602 euros, Holland - 45 793 euros (hereinafter - all wages are given before tax).
At the same time, in France the average annual salary is 34 854 euro, Greece - 28 241 euro, Spain - 27 438 euro, Portugal - 17 741 euro. And finally, in the countries of "catching-up" Europe, which only relatively recently became members of the EU, wages are the lowest. In some of them, the gap from the wealthy states of Northern Europe reaches tenfold. In Bulgaria, the average annual salary is 4599 euros, in Romania - 5869 euros, in Latvia - 8376 euros, in Hungary - 9868 euros.
Where are the Ukrainian citizens in the described system of coordinates? The average annual salary in Ukraine as of September 2013 of the year is 39 132 hryvnia (approximately Euro 3590) per year. That is, to the level of "poor" Bulgaria still need a little more than a thousand euros.
Hourly - the fairest
Another common norm in Europe is hourly wage, which is considered fairer. This approach is common in the UK, Spain, Italy, where there are quite a few self-employed, and many able-bodied citizens (and visiting migrant workers) work part-time or work on weekends (which means increased pay), receiving strictly for the hours worked.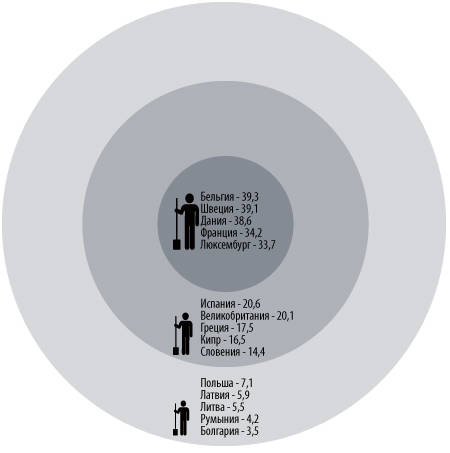 So, here the gap between the "golden" Europe and the "catching up" is even more impressive: from 3,5 euro to 39,3 euro per hour. With an average EU level in 23,1 euro / hour, workers in Belgium (39,3 euro), Sweden (39,1 euro), Denmark (38,6 euro), France (34,2 euro) earn the most per hour. Least of all - in Bulgaria (Euro 3,5), Romania (Euro 4,2), Lithuania (Euro 5,5) and Latvia (Euro 5,9).
In Ukraine, the average hourly wage as of December 2013 of the year is 7,30 hryvnia, which is five times less than the lowest Bulgarian level in the European Union.
It is also worth noting that the highest level of hourly wages among European countries is in Norway (not a member of the EU), where 44,2 euros are paid for an hour of work. It turns out that a Norwegian on hourly work can earn more per day than an ordinary worker in Ukraine per month.
However, it should be noted that even the impressive hourly rates for peripheral Europe for Ukrainians are the salaries of local workers, and not at all what Ukrainian guest workers earn in Poland. Numerous reports show that only a few Ukrainians get the minimum set by the hour. So, in the same Poland, Ukrainians most often work for 2,5 – 3 euro / hour. One should also not think that the signing of the Association Agreement will change this situation: exactly the same inequalities are found in the inhabitants of peripheral Europe who left for work in the "core" and "pulp" countries. Well, if the EU cannot guarantee for them to meet their own standards, it is completely foolish for Ukrainians to rely on the materialization of "wages as in Europe". The wage is not a good European office uncle, but an economy with a stable industry and guaranteed sales markets.
For your information:
In the Russian Federation, the average monthly salary (June 2013) was 27 339,4 rubles (7500 euro per year), in the Republic of Belarus (July 2013) - 5 450 175 Belarusian rubles (5400 euro per year). In Kazakhstan (June 2013) - 109 970 tenge (6360 euro per year), which corresponds to the level of a number of countries in peripheral Europe. It is characteristic that the achievement of this result did not require the signing of agreements with the EU, the creation of an FTA and other actions, which in Ukraine are increasingly given the charm of magic rituals. If you add here the difference in prices for housing and communal services, gasoline, etc. in Western Europe and Eurasia, the comparison will not be at all in favor of central and eastern Europe.