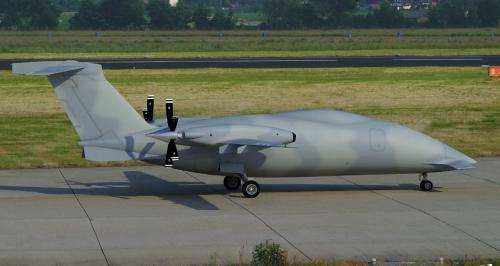 UAV P.1HH Hammer Head
14 November 2013 of the Italian Air Force Base Trapani in Sicily made the first flight of an unmanned aircraft Piaggio P.1HH DEMO - a prototype demonstrator developed by the Italian company Piaggio Aero Industries UAV long duration of flight (MALE class) P.1HH HammerHead. As a platform for this UAV, the famous twin-engine turboprop P.180 Avanti II administrative aircraft manufactured by Piaggio is made according to the "duck" scheme with pushing screws. During the test flight P.1HH DEMO was controlled from the ground control station.
Administrative turboprop aircraft P.180 Avanti II
UAV Piaggio P.1HH HammerHead is created from 2011 year on a program supported by the Italian Air Force. In fact, the development of this system began after the United States in 2011 refused to supply Italy with weapons systems for the General Atomics MQ-1 Predator and MQ-9 Reaper UAVs. In the summer of 2013, the Italian Air Force announced its intention to acquire the 10 UAV P.1HH HammerHead with their operational readiness in 2016-2017. Tests of a full-fledged prototype UAV P.1HH HammerHead should be started at the end of 2014.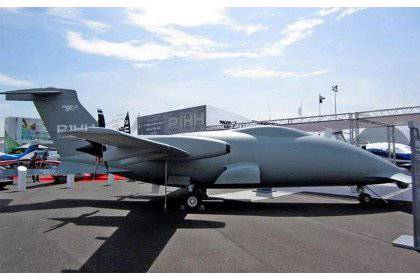 The control system of the unmanned complex P.1HH HammerHead was developed by Selex ES (part of the Finmeccanica group). The aircraft is powered by two Pratt & Whitney Canada PT6A-66B turboprop engines. Piaggio claims that the UAV will be capable of operating at an altitude of about 45 thousand feet and have a flight duration of up to 16 hours, while flying at a very low loitering speed of 135 knots. At the same time, the maximum speed reaches 395 knots, making it the fastest known MALE class UAV in the world. The device is capable of carrying a variety of target load, and in the future - and guided weapons weighing up to 500 kg. In fact, the P.1HH HammerHead, if this system is fine-tuned, is likely to become the first full-fledged MALE-class UAV developed in Europe.