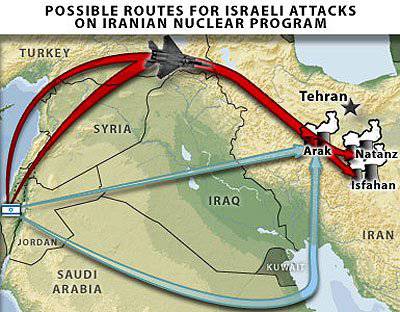 Today, friends shared with me an interesting article called
"USA: Israel. Mate in two moves"
. They also asked to sort out this material along the lines of the development of the Iran-Israel conflict. With great pleasure to publish this analytics.
To begin, let us examine the thesis put forward in the material as to what
"The United States forced Israel to abandon the idea of ​​bombing Iran ..."
. In his movie
"Israeli Zionism"
I have repeatedly argued (with the citing relevant evidence, of course) that the elite of Israel is under the control of the transnational elite under the control of the clan of Zionist Jews, the Rothschilds. And the Rothschilds themselves are the ideologues and authors of the Jewish state's Israelite project in Palestine. Therefore, in fact, both the United States and Israel are ruled by the same elite. So all these political shows and informational waves in the media are for the entertainment of an idle public. And "the idea of ​​bombing Iran" is not the idea of ​​Israel and Israeli politicians, but of a much more serious elite group, whose members understand all the risks of this kind of adventure and at the moment they level them. In particular, they reduce the dependence of the US economy on Middle Eastern oil and strengthen Israel by Saudi Arabia.
(with the prospect of drawing Turkey, Iraqi Kurdistan, Kuwait, Qatar and Jordan into this conflict)
.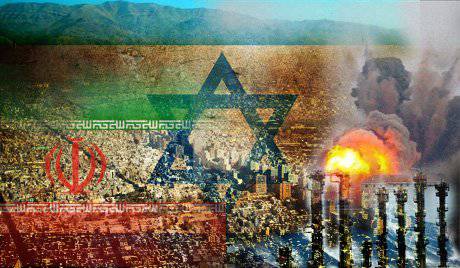 Also in the material there is another interesting paragraph devoted to this issue. I quote it completely:
"It became known that Saudi Arabia allowed the passage of Israeli aircraft to bomb nuclear facilities in Iran. Actually, this makes little difference. Everyone knows that Israel cannot bomb Iran, it simply does not have such an opportunity. There is only one option , which Israel could have arranged, but it lies beyond Israeli capabilities. Israeli aircraft will never bring the Bunker penetrators to the goal, but even if you use the latest MOP (Massive Ordnance Penetrator GBU-57A-B, Penetrator bunkers) that weigh 10 tons, there is no r that they will be able to destroy an object that is under rocks at a depth of hundreds of meters, but then Iran will be out of reach for negotiations. But even for this, again, American planes are needed. For delivery you must use either B-2 or B -52. Now imagine that there should be a lot of targets, which means there will be too many planes. Add refueling operators to everything, and you will get dizzying traffic of planes totaling at least 50 units in the sky. For Iranian air defense it will be a "good hunt". "
Saudi Arabia and Israel, in fact, are now on one side of the Middle Eastern barricades. This is not really surprising; I predicted exactly such a development for a long time. As for the very possibility of striking Iran, Israel has it. Israel has 309 F-16 fighters of all modifications with a combat radius of at least 1361 km and 87 F-15 of all modifications with a combat radius of at least 1967 km. To facilities in Iran, the Israeli Air Force must fly 1600 - 2500 km. For refueling in the air, the Israeli Air Force has 5 Lockheed C-130 Hercules, which, over the territory of Saudi Arabia, will be able to refuel the planes bombed over Iran in the event of conflict. At the same time, the role of Israel in this conflict is likely to be reduced to starting the conflict. And then everything will detonate by itself: Saudi Arabia, the Kurds, the US 5 fleet ...
The material correctly states that by themselves the Israeli Air Force will not be able to inflict tangible damage to Iran. F-15 and F-16 can carry bombs weighing up to 1 tons. Such a bomb cannot destroy Iran's nuclear facilities. But for command centers, the nuclear power plant at Bushehr and other infrastructure facilities of Iran, it certainly represents a danger. Therefore, now the leadership of Iran and its armed forces should put maximum emphasis on strengthening their air defense systems, as well as early-warning systems of air attack.
Now let's summarize. Israel can certainly be used as a detonator for aggression against Iran. The conflict will lead to the catastrophe of the Jewish state, but who, in fact, asks this state in the current geopolitical realities ?! "To the morgue, then to the morgue!" (with). And on a global scale, a whole coalition of aggressors led by the United States can oppose Iran. This is what is most to be feared - and this is by no means should be allowed!