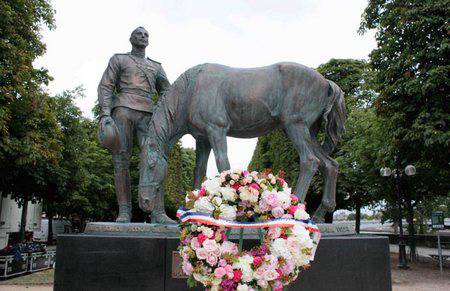 Representatives of the High Command of the French Army held a solemn ceremony at the memorial to the soldiers and officers of the Russian Expeditionary Force today, November 13. This military unit was sent to aid in France during the First World War and a memorial in memory of it was installed in Paris on the right bank of the River Seine. Also, the memory of the heroes of the First World War was honored by the Ambassador of the Russian Federation to France Alexander Orlov and the head of the local representative office of Rossotrudnichestvo.
Speaking at a solemn ceremony, Jean-Morin, a divisional general from the headquarters of the armed forces of the French Republic, said: "We will never forget about the sacrifices made by Russia on our land. Russian brigades participated in the fiercest battles ". In response, Ambassador Alexander Orlov said that the 2014 year will mark the centenary since the beginning of the First World War. "It is very important to preserve the memory of our common pages.
stories
"- said the diplomat.
Recall that in the 1916 year, the Russian Empire sent to Europe to assist the allies expeditionary force of more than 45 thousands of people. His main contingent defended the Champagne-Ardenne region together with the French troops. Particularly distinguished Russian infantry under Reims, blocking the forces of the Kaiser to Paris.