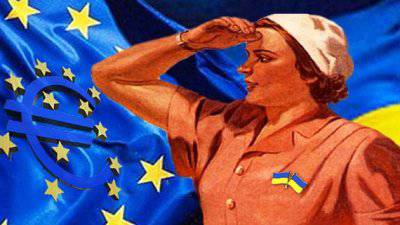 Ukraine flew past the signing of the association, like asteroid DA-14 past the planet Earth in February 2013.
It seems to be close, but, fortunately, twenty seven thousand kilometers. Not crashed. Past And many are happy, many of those who were against signing, jump almost to the ceiling, do not hide their happiness.
And I want this signing. I understand that failure to sign it is a disaster.
I want this signing, I demand it, do not deprive me of signing, savvy!
I know perfectly well that the Ukrainian people love. He loves what did not happen. He will cherish the legend of gold Polubotka, he will pass to the descendants, frozen in cheap Chinese cradles, the legend: "... and then every citizen of Ukraine would receive a hundred thousand dollars ... just like that, son ...".
My grandmother was very educated and intelligent. But she loved to repeat: "Eh, Lenin would have lived for ten years more, would have bathed in gold ..." He did not live. Did not work out. Bathed in other substances.
The association has become a legend, it is the theme of all talk shows and speeches, it's a golden dream, a dream of Communism, when you don't have to work, but you can only RECEIVE.
And now dreams deprive. What for?! Give this people an association! Let him try it out, let him eat it, let him eat it, finally.
Let Ukraine join such "associated" countries as South Africa, Albania and Tunisia, Lebanon and Macedonia, Algeria and Bosnia, Mexico and Palestine.
Someone said that the association is an empty sound, that it gives absolutely nothing but an ephemeral opportunity to join the EU no earlier than in years of 10-15? Lying! Now it will forever remain a lie. And no way you can not refute this lie.
For example, in order to understand what the EU is, it is necessary to join it as a "youngest". You were hung up with noodles saying that "you could live better with the rich than with the poor." And you will come in shabby pants and patched shoes in the cigar club, where millionaires gather. Cozy?
Treat you as an equal attitude? Give this people an association, because, not having tasted it, he will remember it for another hundred years.
After all, textbooks on
stories
write, scientific papers, dissertations on the topic "What would have happened, sign the Ukraine Association".
There is a category of citizens, from those who have beer in the skull box, and so they think that it was better to lose in the Second World War. And today, instead of pouring out babblets into plastic cups under the fungus in kindergartens, everyone would have rolled the Mercedes-Benz sausage on the Mercedes.
Convince them unrealistic. They would have to LIVE in the occupation to understand their wrong. No one will dissuade the Ukrainian people that the association is an empty phrase. More than half of these people believe seriously that "association with the EU" and "accession to the EU" are one and the same.
They themselves did not decide that, they were told about it by politicians. And the people believe. They would wait for pensions of a thousand euros and salaries of three thousand euros after signing the association. They would understand that everything was a hoax, when their plants would close and they would lose even their five thousand hryvnias.
But do not lose now. And they will dream that did not come true. And they will blame (they will find someone!) And curse. Historical chance prograno and smarnovo! Ilyenko at Schuster will convulse in convulsions, shake his quad chin, his severe eyes narrow. Pros ... zmarnuvali !!!!
If all the time before the summit they talked about the summit, then a couple of years after the summit they would talk ... about him, they guessed. That did not grow together. After all, there were a number of hand at all.
And new Ukrainians will tell children in cardboard cradles that the country could become hoo, and all its inhabitants would have money oh-oh-oh, and in general - everything would be oh, if not ... If it were still a bit . But now everything. The chance is lost. Sleep, son, may the EU dream of you.
Just before her landing, Yulia Vladimirovna dreamed about her (landing). This is not fiction, not an allegory, she really wanted to sit down. Naturally, not for long. She understood that after his release she would become president.
Well, Yulia went all wrong, but I need to - in principle, she MUST be let go. Do not care about the law, and release. Let him go for a walk.
What happened to Lutsenko after the release granted by DAD? He showed off for a couple of weeks, and then ... then he became uninteresting to no one.
Everyone knows that he is on a dance performance at the candy king, no one is serious about the former minister, everything is violet on the ex- "political prisoner". Flew opposition raid and prison charm. Before us is an ordinary guy, working all his life, forgive me for being direct, mouth.
What would happen to Tymoshenko? Well, she would have bathed in glory, distributed a hundred thousand interviews, got drunk, sniffed, slept off ... And then what? By returning her freedom (illegally!), The power would take away from her 50% support, which is still not killed by her faithful associates.
Without signing the association, the Ukrainian government does not release Tymoshenko from the conclusion. Yes, that's right, not vice versa. Because the unsigned association is Lutsenko behind bars. Interesting, significant, that Lutsenko, whose blogs on the "Ukrainian Truth" read thousands of people.
A signed association is an accomplished fact that deprives sellers of the dream of a product in stock. This is Lutsenko, absurdly running around with EU flags on subway cars. This is unemployment, stopping production that could not stand the competition, and ... the onset of a bright future, which turned out to be not so bright.
Until the child gets the discharge current from the outlet, you explain to him at least a million times that it hurts - you will not understand. Give the people an association, do not deprive the child of the discharge current, do not give the credulous people a dream about what could be if ...
I want to sign an association! Sign, fools!