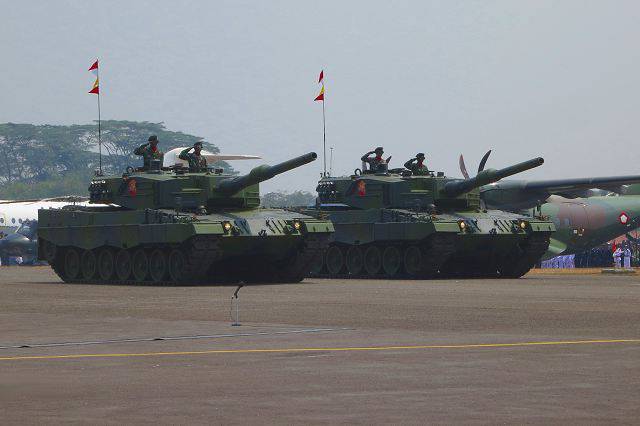 The Ministry of Defense of Indonesia signed a contract with the company Rheinmetall Group (Dusseldorf) for the purchase of 103 main combat
tanks
The Leopard 2A4, 43 Marder 1A3 infantry tracked fighting vehicles, ammunition and related services worth 216 million euros, armyrecognition.com reports. From this moment, the contract, which was signed in December 2012, comes into full force after the completion of all legal formalities.
Along with the 103 upgraded and overhauled Leopard-2 and 42 BMP Marder-1A3 tanks, the contract includes the supply of 11 armored evacuation and engineering vehicles, relevant documentation, training equipment and additional maintenance. In addition, the order includes initial training in the use and maintenance of ammunition. Thus, Indonesia becomes the 18-th country with tanks "Leopard-2".
Delivery dates are scheduled for 2014-16.
Rheinmetall has more than 40 flight experience in the development and production of main battle tanks, infantry fighting vehicles and related combat support systems. Leopard-2 tanks continue to set standards for modern tanks, which currently have more than 3600 units in service.
The Rheinmetall Group played a decisive role in the development and production of Leopard 2 tanks commissioned by the armed forces of Germany and the Netherlands. Of the 2125 produced by Leopard-2А4, 977 was completely manufactured by Rheinmetall at the plant in Kiel, which entered service with the German and Dutch armies. The company also manufactures Büffel / Buffalo 3 armored recovery vehicles.