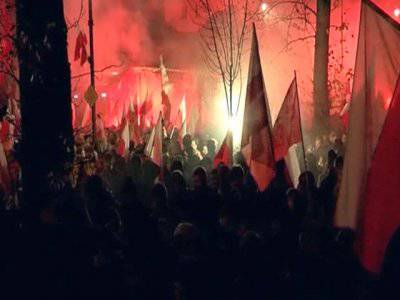 Polish police detained three dozen pogrom participants at the Russian Embassy in Warsaw. For an attempt to attack a diplomatic building, three of them will be punished. The organizers promised that the traditional march in honor of Independence Day this year will be calm, but in the end the procession turned into an assault with riots: flares, stones and incendiary bottles flew to the Russian embassy.
If the Independence Day of Poland suggests a nationalistic orgy and pogrom - and this has been going on for more than a year in a row - then the day before the holiday was a success. And the attack on the Russian embassy in Warsaw was a bit of a climax.
The organizers of the ultra-right march, which, according to police estimates, gathered up to 20 thousands of people, initially managed to maintain some semblance of order with the help of men in orange vests. But it did not last long. Several hundreds of young people with faces wrapped in football scarves — perhaps those who organized provocations against Russian fans at the last European Championship — broke away from the general company and began to smash the house inhabited by radical squatters, throwing stones and flares at him.
When a police special forces appeared, the hooligans initially switched to him, but after they started shooting at them with tear gas grenades and rubber bullets, they scattered through the neighboring streets, where they began to break windows and burn cars. And about a hundred of them at that moment moved towards the Russian embassy.
They managed to set fire to the security booth, a certain number of bottles, stones and explosive packets flew into Russian territory. Three of the most annoying had to be pulled off the fence by the legs and loaded into the truck. At this point, the authorities decided to terminate the action ahead of schedule, as notified by its organizers, who, however, had nothing to control. The rioters have shifted to
historical
the center is on Savior Square, where the bohemian audience and liberal youth gather, they still managed to burn the flower arch, built for the holiday as a symbol of tolerance. In a word, everything that day passed, as is customary with the nationalists: first they shouted "Fatherland, honor and God", appealing to the holy things, and then they hid their faces and arranged something in which God was not visible and little honor to their homeland.