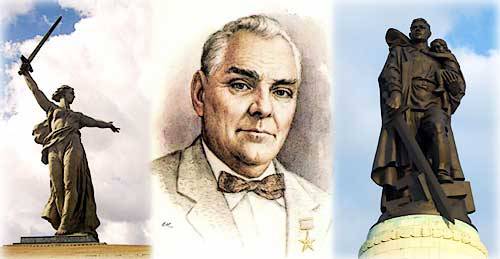 To express admiration for the feat of their ancestors, sculptors use various materials. The most commonly used materials in this case are marble and
granite
. However, in addition to marble and granite, there are other materials that have been used by sculptors of different times to embody their creations. Such materials include, for example, a special type of concrete - concrete that has passed through the prestressing stage. It is from this material that one of the most recognizable sculptures of the world was created - "Motherland is calling!"
The sculptor - Evgeny Vuchetich is a truly unique professional. Evgeny Viktorovich had Serbian and French roots. His father is a White Guard officer of Serbian descent. Mother - nee Anna Stewart. Surprisingly, the fact that Vuchetich's father fought against the Red Army at one time did not prevent Evgeny Viktorovich from being awarded the Lenin Prize (1970 year) with five Stalinist prizes (from 1946 to 1950) for his unique work. In the 1967, Vuchetich receives the title of Hero of Socialist Labor.
Evgeny Viktorovich is amazing not only because his genius allowed him to create such monumental works as "Motherland", but also because he succeeded, having come to the front as an ordinary volunteer, to reach the rank of senior officer - lieutenant colonel - during his life.
Vuchetich's works are real sculptural masterpieces, which, despite their monumentalism, convey something intimate and personal to a person. The masterpieces of the sculptor Vuchetich are not only sculptures in the hero-city of Volgograd, but also the famous "Warrior-Liberator" in Berlin's Treptow Park; .
Vuchetich participated in the creation of the sculpture "Motherland-mother" in Kiev. Evgeny Viktorovich could not bring this work to the end. He died in 1974, at the age of 66.
Created Vuchetich and famous monument, which for many years stood in Moscow on the Lubyanka site - a sculpture of "Iron Felix".
Evgeny Vuchetich was buried in the Novodevichy cemetery of the capital. His granite tombstone is not at all as monumental as those monuments and monuments that he did in honor of others during his life. In 2014, 40 marks the anniversary of the death of the great Soviet sculptor with Serbian and French roots.