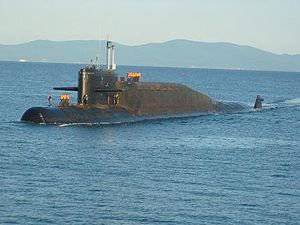 The disposal of the next Russian nuclear submarine / nuclear submarine / Kalmar class will begin at the beginning of 2014 in the Primorsky Territory. About this correspondent. TASS was reported today by the head of the project office of the Integrated Dismantling of Nuclear Submarines of Rosatom, Anatoly Zakharchev.
"In January of 2014, we plan to conclude a disposal contract and unload nuclear fuel from a submarine in order to dispose of it later in the Primorsky Territory," he said.
According to Zakharchev, a large reconnaissance nuclear ship "Ural" and an Antey class submarine (Kursk-type) will be prepared for disposal, which will be disposed of in Kamchatka. Zakharchev added that "only two nuclear submarines" remained on the peninsula.
On behalf of the government, Rosatom in 2009 developed the concept of a new program for the disposal of nuclear submarines, surface ships with nuclear power plants and the rehabilitation of onshore technical bases for the period up to 2015 and up to 2020. The program includes the disposal of nuclear technology vessels and surface ships with nuclear power plants.