On the last day of October, a meeting of the "Baltic troika" took place - the presidents of Lithuania, Latvia and Estonia. Dalia Grybauskaite, Andris Berzins and Toomas Hendrik Ilves, according to the press service of the head of the Lithuanian state, met to discuss topical issues of the development of the region, strengthening the basis for cooperation between the three countries. This is only according to the tradition that has developed in recent years (during the existence of these states in the format of declared independence), the conversation has shifted towards Russia. Baltic tradition, you know ... Do not talk about Russia as the "main threat" to the existence of a "democratic" Baltic - that's all! - Consider, the meeting was held in vain ...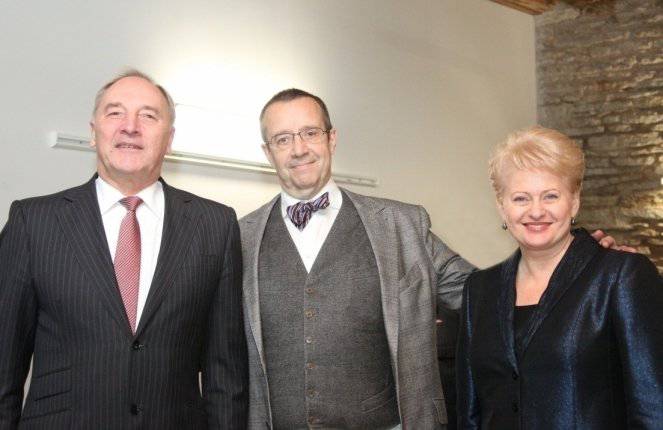 What is Russia this time excited our Baltic neighbors? It turned out that Vilnius, Riga and Tallinn literally no longer have the strength to be in energy dependence on Russian suppliers, and therefore they want to unite their efforts in order to connect to suppliers outside of Russia. And the greatest desire to diversify gas supplies was expressed by Lithuania. The reason is that the gas flowing today from Russia to Lithuania is more expensive than gas going to Latvia and Estonia. Riga and Tallinn some time ago managed to negotiate with 15% discount on "blue" fuel with Gazprom. After the Gazprom discount started working, Latvia and Estonia started receiving gas at roughly 440-450 dollars per 1 thousand cubic meters, while the price of gas for Lithuania remained at a value above 510 dollars for the same amount. And after all, it is Lithuania out of the three Baltic "sisters" that has to buy the largest volumes of gas from Russia.
What are the reasons why the discount from Gazprom did not affect Vilnius? Officially - some inconsistencies in the documents and other legal aspects. Informal - we guess ...
In order to get revenge on Gazprom for such an injection in the direction of Lithuania, the latter decided to declare the "illegal actions" of this Russian company to international antitrust services. As a claim, of course, they didn't say that Gazprom didn't go for discounts, but what the company forbids in re-exporting "blue fuel" when concluding contracts. They say that the remaining gas is "ownerless", and we could sell it to Poles in need, for example ... Until recently, when signing contracts, Gazprom really demanded that the other party to the contract guarantee that the unrealized gas inside the contracting country would not be resold in third countries.
The international antimonopoly services heard such "groans" of Lithuania, and therefore threatened Gazprom with a finger: they say, you'll continue to do this, we're even more threatening with a finger ... At the same time, they pointed to antitrust legislation and that Russia is now a member of the WTO.
Representatives of Gazprom heard all this information, passed through themselves, digested and began to think what to do to keep the price of gas for Balts at the right level for themselves and not offend international commissions. Thought-thought at Gazprom and found a way out. Someone suggested a great idea: let the Balts, however, not re-export Russian gas inside the countries. More precisely, let them try to do it ...
What does "try" mean? But the fact is that for the re-export, so desired by Vilnius, there are at least two serious obstacles.
The first obstacle: "wasteless" (unused) gas in Lithuania remains (and this is still the best case for Lithuania) so much so that these volumes fit well with the term "the cat cried". That is, to re-export something, you still need to save up. And how to save, if the price of a thousand cubes rolls over for 510 dollars. Who will buy gas at a price that Lithuania, apparently, is also going to wind up a little to get "dividends"?
Obstacle two: the Baltic gas transportation system has practically not developed since the collapse of the USSR. As it was part of the unified Soviet gas supply system, in fact it remains so today, although the Soviet system itself has been gone for a long time. In other words, the Baltic troika simply does not have any suitable transportation capacity for gas re-export to other countries (EU countries). That is, in fact, there is nothing and nothing to re-export ... Just some kind of Baltic gas transmission impotence ...
There is, however, one pipe built recently. But the trouble is: the Baltic states themselves connect this pipe with each other, and even that is not all. The pipe was laid between Lithuania and Latvia. As they say, re-export "with each other" as much as you want ...
Theoretically, such a pipe makes it possible to pump cheaper gas from Latvia (Russia sells Latvian gas at a price of about 450 dollars for 1 thousand cubic meters) to Lithuania. But what possibilities does this Lithuanian-Latvian pipe actually provide? By and large, no. If we consider that Latvia buys gas from Russia in the amount of about 1,1 billion cubic meters a year, and the gas pipeline to Lithuania has a capacity of about 2,3 billion cubic meters a year, then in order to "help" Lithuania, Latvia needs not only no to spend "their", bought from Russia, gas, and even somewhere to take about the same "blue fuel" annually. It is obvious that Riga does not have such a big "friendly" potential even with respect to its Baltic neighbor ... There is, of course, an option - Mrs. Grybauskaite will borrow money (based on their $ 450 price per thousand cubic meters of gas) to Andris Berzins, who will triple purchases from Russia ... But will Russia get to such a move? That is unlikely…
In general, by its decision, Gazprom killed two birds with one stone - it left international prosecution on the antitrust line and the WTO line, and in addition, left prices for Balts at the same level. As they say, you cannot legally dig ...
How in this situation to be the three Baltic "sisters"? To resolve this issue, their presidents met October 31. The decisions were made (or confirmed) as follows: it was decided to connect the pipe with Poland, and also to find some sources "bypassing Russia". It would seem that everything for the Baltic presidents is just great. But only, firstly, the construction of the new gas transmission system of the Baltic-Poland will require substantial investments, and secondly - time. And if we take into account that the start of the project is scheduled only for 2018 year, then putting it into operation is certainly not the case for tomorrow or even the day after tomorrow.
In order to "not freeze" during this time, Lithuania intends to build a terminal for receiving LNG in the port of Klaipeda next year in record time. In a year, they are going to build a similar terminal in Latvia. At the same time there is talk that Lithuania will buy liquefied gas from Norway, and only at preferential prices. At preferential prices, say, well, well ...
What other discount prices from Norway? Is it not for the reason that in order not to supply the European Union with cheap energy resources, Norway is not joining this very European Union. Why should she go there - to "feed" the same Baltic trio with cheap hydrocarbons? ..
Norway will supply LNG to the Baltic countries, of course. But how much will Norwegian gas for Riga, Vilnius and Tallinn be cheaper than Russian gas? Wait, wait for discounts from the Norwegians ...
In general, there seems to be one way out for the Baltic presidents: to go to Brussels again with an outstretched hand and ask for loans for all of their energy endeavors, well, or for gas purchases at the price for which Gazprom was "generous".