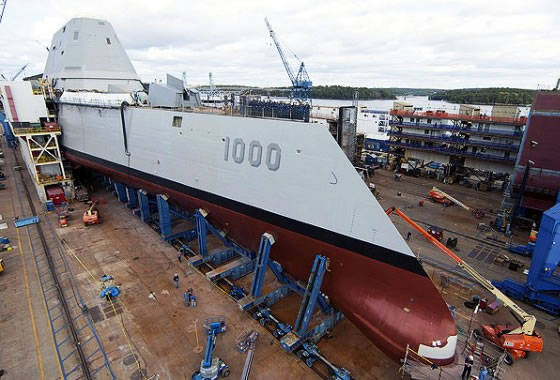 The US Navy announced on October 12 at General Enterprise Bat Iron Works' facility in Bat (Menn) that the Zumwalt-class head destroyer was launched.
The ship was removed from the dry dock and moored at the quay wall on the Kennebec River, where it will be completed.
The destroyers of the DDG-1000 Zumwalt project belong to the latest generation of multipurpose destroyers of the US Navy URO and are designed to ensure dominance
fleet
in coastal waters, the destruction of ground targets and fire support operations of the units of NE and the United States Marine Corps.
Initial contracts totaling 2,8 billion for the construction of two Zumwalt-class destroyers (DDG-1000 and DDG-1001) of the US Navy concluded with Bat Iron Works and Northrop Grumman Shipbuilding in February 2008. The construction of the ships began in February 2009. It was originally planned to deliver the US Navy 7 class destroyers "Zumwalt", but in April 2009, due to a significant increase in the cost of the program, it was decided to reduce the order to three units. At the same time, the Bat Iron Works' shipyard was chosen as the main contractor for the construction of all three ships.
Construction of the DDG-1000 began in February 2009 of the year. The destroyer keel was laid down at the Bat Iron Works 17 in November 2011. Currently, the destroyer readiness exceeds 87%. The DDG-1000 delivery of the United States Navy is scheduled for the end of the 2014 year.
The length of the Zumwalt-class ship is 610 feet (185,9 m), width - 80,7 feet, displacement - 15000 t. The shape of the superstructure and the special design of antennas significantly reduce the effective scattering surface. Maximum travel speed - 48 knots. The crew of the destroyer - 158 man, including the air group of 28 man.
The ship will be equipped with the latest weapon systems and will surpass the existing destroyers in firepower three times. It is assumed that the weapons of the destroyers will make 80 vertical launchers with Tomahawk, ESSM, and Standard missiles; 155-mm AGS advanced shipborne artillery systems firing 155-mm long-range Land-Attack Projectile long-range guided artillery; anti-torpedo and anti-missile weapons.
The DDG-1000, 1001 and 1002 destroyers will also be equipped with the X-band SPY-3 multi-function radar.
The ships will carry on board two MH-60R helicopters or one MH-60R and three unmanned aerial vehicles with vertical takeoff and landing.
As planned, the destroyer DDG-1000 will reach a state of initial readiness for combat use in 2016.
The second ship of the Michael Monsour series (DDG-1001) will be launched in the 2014 year and handed over to the US Navy in the 2015 year. The construction of the third destroyer Lyndon Johnson (DDG-1002) began in April 2012.