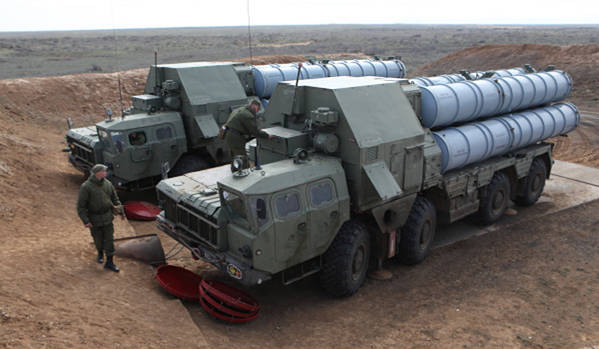 By supplying modern air defense systems to the CIS countries, Russia is strengthening its air defense of its neighbors and taking care of its own security, Viktor Litovkin, responsible editor of the Independent Military Review, told Golos Rossii.
Russia intends to transfer four anti-aircraft missile systems C-300 to Belarus. This was stated by Russian Defense Minister Sergei Shoigu after meeting with his Belarusian counterpart Yuri Zhadobin, ITAR-TASS reported.
In the future, this system will most likely become the basis for the Eastern European zone of a single air defense of the CIS. In addition, plans are to create a Caucasian and Central Asian air defense zone. In January, an agreement on the formation of a single air defense system was signed with Kazakhstan, which can receive C-300 complexes free of charge by the end of the year.
What are the prospects for the creation of a unified air defense system, Golosu Rossii was told by the editor-in-chief of the newspaper Independent Military Review, Viktor Litovkin.
- Do all CIS countries want a unified air defense system?
- This is not quite a single air defense of the CIS countries, it is a single air defense along the directions. The Western European direction, if taken from Moscow, is a single air defense system of Belarus and Russia. The unified air defense system of Russia and Armenia - the Caucasus, the unified air defense system of Russia and the Central Asian states - Central Asian.
Of course, many countries are interested in obtaining modern Russian anti-aircraft missile technology, it is, without exaggeration, the best in the world today, the most reliable, the most effective. It is very beneficial for us to defend the common sky - both with our allies on a bilateral basis and within the framework of the CSTO.
- Who will pay for the supply of equipment when creating a unified air defense system?
- Deliveries in the framework of the CSTO are paid for by the recipient states themselves, but at factory prices, just as Russia purchases them. If we sell abroad, for example, to China, India or Algeria, we sell equipment at higher prices, including different surcharges, then we sell it to our CSTO partners at factory prices, including shipping costs and consultations, but these are small margins.
- What is the meaning of a unified air defense system? Army in all countries of their own, and the sky, it turns out, the general?
- All countries have their own armies, but all have the same military equipment, the Russian, because only Russia is able to produce such highly effective combat systems as C-300, C-400, Tor-M1, Tor-M2 , "Beech M-1", "C-1 Shell" and others. Not a single country of the CIS is capable of producing such anti-aircraft missile systems. This is the first.
The second. To protect the territory of Russia, we must know what is happening in the skies over Belarus, over Ukraine, over the republics of the Transcaucasus, over Central Asia. When alien planes, alien missiles appear over your head, it's too late to catch up. You need to know about their approach in advance when they are still at a considerable distance.
- Any difficulties may appear when creating such regional systems?
- Of course. Firstly, not all officers in the CIS countries have a sufficient level of training in order to own such equipment as C-300. For example, in Tajikistan and Kyrgyzstan we do not supply such complexes. There are no high-speed aircraft, bombers, such as in the United States, which can fly from Afghanistan or Pakistan to the region of our Central Asia, so there is no need to install C-300 or C-400 complexes, rather old C-125 complex or similar.
But on the western border, more serious complexes and more serious training of personnel are needed to repel air strikes.
- Some CIS countries are seeking to join the European Union and minimize their cooperation with the CIS. Does it make sense to "cover up" such states?
- In the European Union, they seek for economic reasons. And from a military point of view, no one will accept the same Ukraine into NATO, no one is going to defend it with the NATO "umbrella." And Ukraine is not going to join NATO. This time.
Secondly, Ukraine is a self-sufficient state that is able to protect its airspace. But we are helping Ukraine to "cover" the airspace above it, and we are protecting the airspace of Russia.