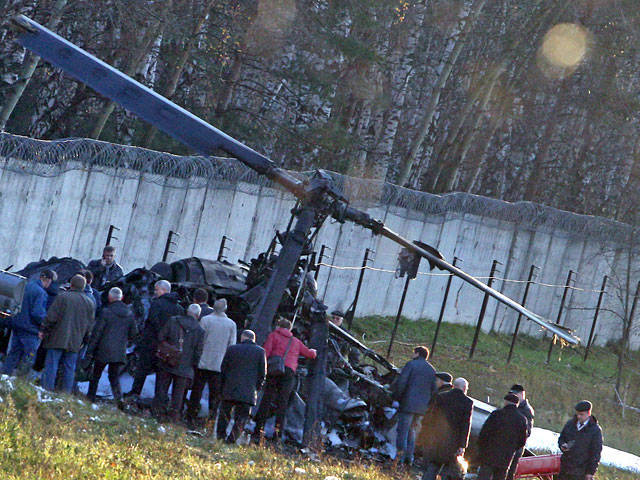 Emergency in the metropolitan area Zhulebino: on Tuesday afternoon, a Ka-52 combat helicopter, better known as the Alligator, crashed there. It all happened near the landfill of the Kamov aircraft factory - on the field next to residential buildings. According to preliminary data, the helicopter flew from the Chkalovsky military airfield to the site in Lyubertsy. Experimental car passed flight tests.
Immediately after the fall, two powerful explosions thundered, one of which bystanders took video. Most likely, the fuel tanks rushed, as there was no ammunition on board. There was a strong fire, thick black smoke clouded the nearest houses. Both pilots survived. According to some data, they managed to eject, according to others - until the last time they tried to take the car away from residential buildings and left the helicopter only on the ground. With numerous injuries, both pilots were hospitalized in 36 city hospital. The condition of one of them is assessed as severe. The fire at the crash site is extinguished, according to the Russia 1 channel. As a preliminary cause of the crash is called the human factor or technical failure.
"The helicopter appeared from behind the 9-storey building, twisted around the axis, and then disappeared behind another house. We heard when the screws were hitting the ground. First they thought, training flights, then the smoke started. I went there, some rocket took off, an explosion. When we realized that the helicopter had fallen, an ambulance, firemen arrived, "one of the witnesses said.
The Investigation Committee is investigating the circumstances of the accident; a pre-investigation check has been started on the fact of the fall of the Ka-52.
The damage from the disaster is estimated at approximately 800 million rubles.
Earlier it was reported that the Ka-52 carried out a test flight on the program to create a deck version intended for basing on the Mistral helicopter carrier. However, then these data are refuted.