As reported by 24 on October 2013, the ARMS-TASS agency, the Russian Interior Ministry will test two French armored vehicles to ensure internal security. This instruction was given by Interior Minister Vladimir Kolokoltsev after inspecting the exposure of the French company Renault Truck Defense [Renault Truck Defense - the division of Renault Truck, currently part of the Volvo Group - bmpd] at the Interpolitech-2013 international security exhibition ".
As the ARMS-TASS correspondent was told at the stand of the French company, the attention of the head of the Interior Ministry was attracted by two armored cars presented at the stand of the Renault Truck Difsence. This is a multifunctional commander armored car for the transport of prisoners MIDS with a wheel formula 4х4 and a multifunctional armored car for patrolling and tracking PVP AVP, also created on the chassis with a wheel formula 4 XX4.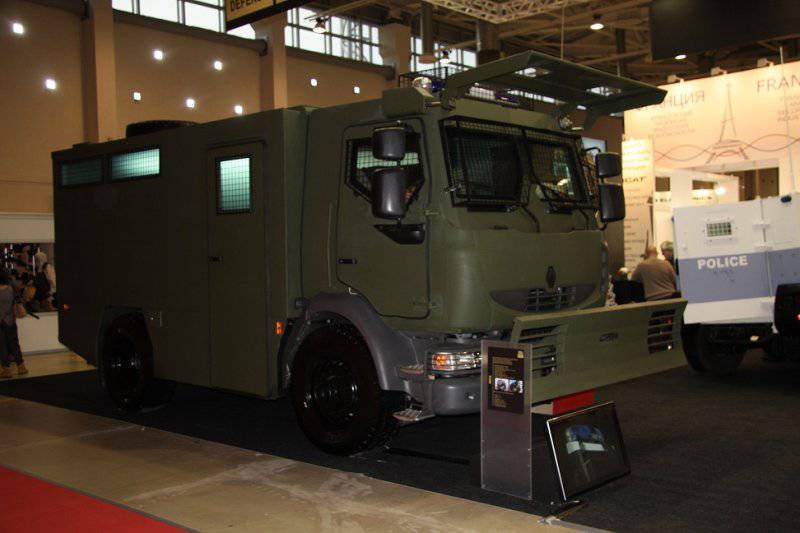 Police armored car Renault Truck Defense MIDS in the exhibition "Interpolitech-2013"
According to the director of business development in Eastern Europe, Central Asia and the Caucasus, the French company Sophia Fuletier, both armored cars on display in Moscow will return to France after the exhibition, and then after certain improvements and preparations they will come to Russia again to undergo tests Ministry of Internal Affairs of the Russian Federation. The tests will be carried out according to a program developed by the specialists of the Ministry of Internal Affairs and agreed with the French developer. The duration of the test has not yet been determined, but it may take one month.
The MIDS armored car with a wheel formula 4х4 has a mass of 14 tons, a crew of four and 12 people. personnel, equipped with an engine power 280 hp
The PVP APC armored car has a mass of 5,5 t, including the payload mass of 1 t, and a crew of 4-5 people. Develops speed 110 km / h, equipped with a hp 160 turbo diesel engine.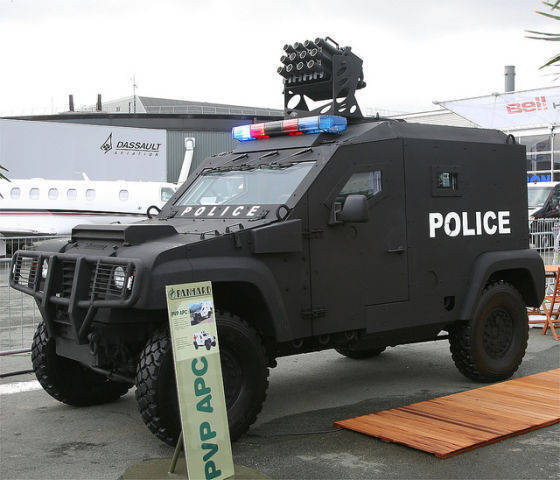 Police version of Panhard PVP APC light armored car (Renault Truck Defense) at the Le Bourget Air Show (France), 23.06.2011. The PVP was originally developed by Auverland, a French company that was part of the Peugeot group, but in 2005, Auverland was acquired from Panhard by Peugeot. In turn, at the end of 2012, Panhard itself was acquired by Renault Truck Defense along with the entire product line (c) Michael Kelly