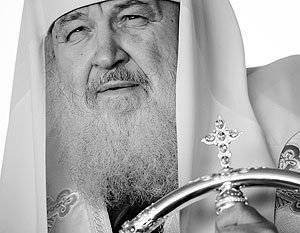 Russian society has spoiled the benefits of civilization, and therefore can not overcome interethnic problems, crime and corruption, said the Patriarch of Moscow and All Russia Kirill in Podolsk, near Moscow after laying wreaths at the monument to soldiers killed in World War II.
"We stopped walking, writing letters ... We stopped communicating with each other, often replacing this communication with virtual communication or telephone communication at best. We have stopped doing a lot. We have become very weak, "said the patriarch.
According to him, when electricity is cut off in a particular city today, people often go into hysterics, perceive it as a disaster, RIA "
News
».
"There are cases of suicide only because electricity was cut off in large metropolitan areas," said the head of the Russian Church.
He recalled that the weaker the "inner man" becomes, the more vulnerable he is, regardless of "how his muscles are pumped" and what position in society he holds. The patriarch emphasized that the victory in the Great Patriotic War was primarily a victory of our spirit.
"You can lose a lot in life if you have a weak spirit. Here the Church calls upon people, modern people, relaxed by the benefits of civilization, to cultivate their spirit, to become spiritually strong. Then we will get a lot. Then we will transform our Fatherland beyond recognition, "he said.
"We will work hard, we will be courageous and strong, well-organized, able to solve many problems - from interethnic to corruption and crime: all those problems that today so complicate our lives," said the primate of the Russian Orthodox Church.
"And the strength of the spirit is brought up by faith, brought up by morality, brought up by culture, brought up by tradition," he added.
In September, the patriarch called for modernization of the country equal to Peter I and Alexander Nevsky Cathedral.