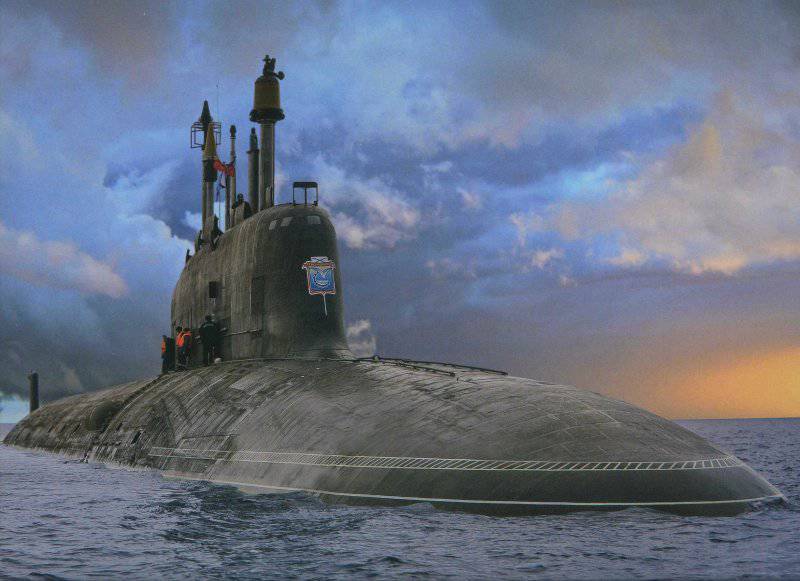 During the first International Forum on Technological Development, which will be held in Novosibirsk 14-15 in November, the original model of the new-generation submarine "Novosibirsk" will be presented. This was reported in the press service of the Government of the Novosibirsk region.
The 885M Novosibirsk multi-purpose nuclear submarine is the third ship of the Yasen project (Yasen-M since 2009) for the naval
fleet
Of Russia. The layout of the submarine for the Technoprom forum will be executed on a scale of 1: 300. The submarine "Novosibirsk" is a secret project, therefore, it will not be possible to inspect the boat in the context, a model 1,25 meters long and 0,25 meters high will be in a glass display case.
In general, the Russian state armaments program for 2011-2020 provides for the construction of ten nuclear submarines of the 885 "Ash" project. These multi-purpose ships armed with cruise missiles should replace several former types of submarines - the "ash" will become an integral part of the nuclear deterrent forces, and in addition, they are able to successfully resist the submarines of the likely enemy. The submarines of the project "Ash" are almost silent on the move and have a powerful sonar complex, which allows them to detect the enemy before he can detect the Russian submarine.
Help "RG"

"Ash" - a project of multi-purpose nuclear submarines of the fourth generation. In June 2010, the lead ship of the Severodvinsk project was launched. Kazan was laid in 2009 of the year, it is being built according to the improved project 885М Yasen-M. It is planned that the second submarine of the series will be ready in 2015 year. Novosibirsk "will become the third ship, its construction began in July 2013 of the year.