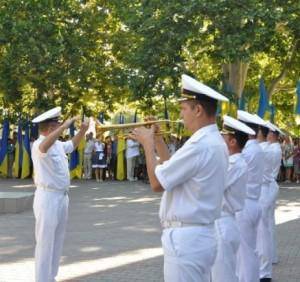 The Sevastopol naval base of the Ukrainian Navy solemnly opened today in Streletskaya Bay, the Ministry of Defense of Ukraine reports.
"With the formation of the Sevastopol naval base, an integral and modern system for providing bases for ships with the appropriate infrastructure of the Ukrainian Navy has been created," Vice-Admiral Sergei Yeliseyev, the acting head of the naval forces, quotes the website.
According to him, the formation of the base is the first step towards fulfilling the goal of reforms determined by the President of Ukraine to create mobile, highly professional, prepared naval forces capable of "reliably and effectively protecting citizens, society and the state, defending the national interests of Ukraine at sea."
By the end of 2014, the Ukrainian army should completely move to a professional basis.
Sevastopol is the base of both Ukrainian fleet, and the Black Sea Fleet of Russia. The Black Sea Fleet, according to a bilateral agreement, will remain in Sevastopol until 2042.