The civil AC-312 helicopter, created on the basis of the Chinese military helicopter Harbin Z-9 (a localized version of the Eurocopter AS365 Dauphin), is currently exported in more than 50 units. More than 10 countries acted as buyers, including Mali, Kenya, Zambia, the Chinese newspaper Zhongguo Hankun Bao said. In the coming years, AVIC expects to export from 90 such machines, work is underway on its new modifications, including the VIP version.
AC-312 completed the tests in 2011 year, it is positioned primarily as a helicopter for rescue services, as well as for law enforcement. Unlike the Z-9 military, it widely uses foreign components, including the French Turbomeca Arriel-2C engines, the fuel system produced by the French company Aerazur, and it is also possible to equip the machine with the meteorological radar of the American company Bendix and other equipment. The newspaper notes that by its technical level it is the most advanced helicopter produced in China.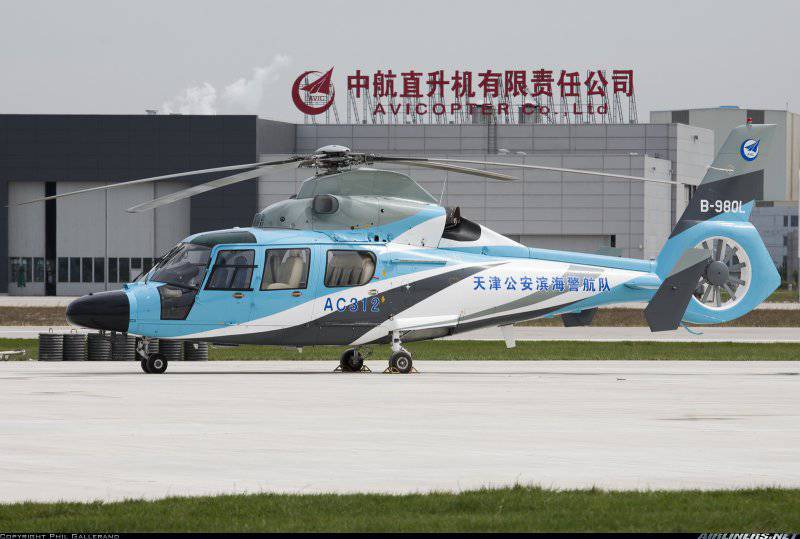 Phil gallerand
It should be noted that the three countries listed in the article are among the largest recipients of Chinese aid in Africa, and therefore supplying them with AC-312 says little about the real market competitiveness of this machine. It is not excluded that a significant part of the deliveries of these machines was carried out as assistance on favorable financial terms or within the framework of complex agreements, when the PRC, in exchange for access to the raw materials assets of interest to its company, provides its partners with various technical, military and other support.