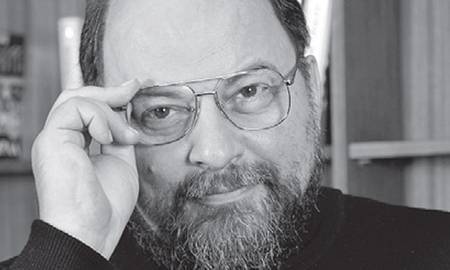 Alexander Privalov, scientific editor of Expert magazine, has been closely following the fate of national education for a long time. "Do you want to talk about school? Despondency is how the school is described today! ", This is Privalov's first reaction to our request for an interview.
The expert told the website of Orthodoxy and the World who and why it took to kill school education, how to save the little that still remains of him, and who to do it.
Violation of the principle
In all that is done in the government with education, the main principle is violated. It is this: in school, in school affairs, only one person understands - the teacher. The one who does not go to the classroom - and not sometimes, as a wedding general - but every day or at least several times a week, generally, in a good way, should be silent about these matters. Shut up and listen politely to what a kind teacher will say. But done exactly the opposite. The only one who received no voice during the endless educational reform was the teacher. Actually, this is enough, this is a sentence.
About fifteen years ago, I, for Expert magazine, wanted to talk about humanitarian issues with the then living academician Alexander Mikhailovich Panchenko. I call him, he comes to the phone, and I introduce myself and say: "Tell me, Alexander Mikhailovich, what is happening to us?" If you have ever seen him on TV, then remember his magnificent mighty bass. And he said to me on the phone: "Well, with his mighty bass, stretching the words. "We are dying." I remember it for life. I remember first of all because he was right.
In the case of education, we can state that it died. Education as a single system, in my opinion, is located beyond the point of no return. And to restore it, perhaps, is no longer possible. If someone ever gets their hands on, education will have to be done anew.
The fact is that if you look at education - above all school education - it turns out that this is such a dual thing. It performs two key functions. On the one hand, education is a system of socialization of a specific individual. A little man goes to school. He is passed through some kind of gears there, he comes out as an individual, socialized in this particular society - ready for life, for further progress in him.
On the other hand, the education system is, of course, a national institution. Bismarck's famous phrase that a school teacher won the Battle of Sadovaya was told about it. Without the Prussian school there would be no Prussian army, there would be no Prussian state: the Prussian school made a nation that was capable of such and such acts. Such a thing as a school that would be ready to reproduce the nation is no longer in Russia.
The beauty of saving
I do not have the feeling that the school was not accidental. I have a feeling that it was consciously reformed in such a way that it ended up destroyed. Because when there is a Brownian movement - purely accidental, that will come to mind, then we turn up, based on simple considerations of the theory of probability, there must be something in favor, but something to the detriment. But here, in educational reform, if there are any advantages, they should be very specifically sought. And I honestly do not see them.
I would be glad to join the fashionable conspiracy theorists today and say that the reform is a conspiracy of the world bourgeoisie or someone else's. But the worst thing is that I can't say that either. Because even the conspiracy is not visible there. The only thing that can be traced in this endless reformation (in general, it is necessary to have a conscience: more than ten years continuously reformed; it would be better to have taken and killed right away!) - so, the only plan that can be traced from beginning to end is the saving plan.
The government considers education as a costly area. It does not consider education as a productive sphere, even more - as the only productive sphere that the country absolutely needs, because without it no other productive sphere can exist. But for the government, the costs of education are only costs. For him, this is only a loss of money.
Therefore, before those eagles that have won a monopoly on the management of this sphere, our dear education reformers have been given the following task, as far as I understand: it means, guys, money for this education goes to Nemer, but in fact no one really need to. Therefore, please do so that everything is decent - so that it is like that of people, with modern words that education is on the verge of science fiction, according to the latest science of the twenty-first century - but at the same time, so that it is cheaper.
And they took the peak: "Not a question! Let's make it so that it will be cheap and the twenty first century! "Moreover, note that it is very important - the reformers received quite good money for this business. Our state, which does not see much benefit in education, nevertheless, increased its allocations for it for several years in a row. It was supposed to be something like this: we are giving you money now, and you are using this money, kindly provide further "efficiency". Or, in simple accounting language, make it so that then the money for you go less. Actually, this is what was done.
Money will be less. The spending of the federal budget on education will decrease rather quickly every year - they are already decreasing. We are told that this is because changes were adopted in the budget code and other such provisions, which transfer a large part of the costs of general education to the regions. On paper, of course, the way it is.
On paper, it turns out that the costs of education of the federal center plus the costs of the regions, plus everything else, that is what business is spending on these goals, individuals, it does not matter, all together, the total costs of education will increase. But the regions rightly notice that they have no money. Not just for education - not at all. Therefore, already from this year, and from the future all the more so, every governor will wrestle with the fact that he is under-funded every day. Road construction? Job exchange? Should he not finance the heating program in poor areas, the gasification program, or it will not finance education?
This choice is lethal. Nothing can be underfunded, but there is no money. Therefore, when we are told that the total cost of education will increase, they simply lie to us. Not in good faith are mistaken, namely lie. Because reformers know better than me how things are going with finances in the regions.
Plane and tightness
Why was it necessary to make education cheaper? In my opinion, the thought behind this may be the following. These people gathered in their own circle, looked into each other's eyes and honestly admitted: the country is degrading. During the nineties, dozens of industries died off, dozens more are dying right now. The country is shrinking, the country's economy is flattening. There are exceptions, of course. But if to speak in general, the number of industries, sub-sectors, still living areas of research all the time decreases. And, it means that the amount of knowledge necessary for the functioning of this mechanism decreases.
And these people asked themselves: who are we going to deceive, while continuing with our last strength to maintain a system that teaches the fundamentals of nuclear physics every hook? Why are we doing this, we are inflating whom? At that time there was no "Arab spring", but it was not difficult to guess to any Tunisia that if you prepare to break through too well-educated young people, these young people, having left school, will realize that there is absolutely nothing to do in their own country. And then they will arrange some kind of revolution. "Do we want this?" Asked themselves. "Probably, we do not want." And what to do? Since the flattening of the country cannot be stopped and we are not able to, then the educational system must be brought into conformity with reality.
One can disagree with this line of thought - for example, I do not quite agree with it. But one cannot deny that there is logic in it. But even if so, all the same, with education it was possible to get along softer. It was possible to sit down and think: how to make the education system with diminishing means, which will nevertheless preserve the possibilities of recovery? Preserve the possibility of restoring the country's self-sufficiency.
It is clear that in the modern world no one has complete self-sufficiency. Everything depends on each other, everything they buy from each other, they delegate to each other. But if the country does not retain any piece in which she herself is the mistress, she has a hopeless situation. Either we retain the possibility of doing some pieces ourselves, and some pieces in the future, maybe, attach to this, or we are degrading. Moreover, if in the education system we degrade faster than in other areas, that's all. The question is removed. In the next four to five thousand years there will be nothing here.
It would be necessary to convene smart people, sit down and come up with something less disastrous. But this is precisely what did not happen. The opposite was done. A phenomenally hermetic decision-making system in education was created.
Probably, even decisions on the deployment of strategic nuclear forces are taken less secretly than all these years, decisions were taken on education reform. Every time when the public was called upon to take part in the discussion, it was done in an extremely mocking way. A great example of this is the big law on education, which was passed in December.
On the one hand, it hung on sites specially prepared for discussion, for accepting comments from citizens. He hung there for almost two years - so much is not necessary, this is madness. Because everyone who had something to say was told in the first weeks. But how was this discussion organized? First, they made it so that people, leaving comments, did not have the opportunity to look at what was already said. Therefore, it was not possible to create public pressure at specific points. Secondly, the authors of the draft law summed up the discussion. What comments they wanted to accept, such and accepted. Which did not want - and they dropped. And most importantly, there was nothing to argue. "Guys! - could ask the authors of the law. - We brought the project to a national discussion? Carried out Did you discuss? Discussed. What more do you want? "
The result was bad. Indeed, it was possible to create all the foundations for the cheapening of the school. But, I repeat, I consider this task false. I really like the favorite phrase of my constant companion, Yevgeny Aleksandrovich Yamburg, a school director well-known not only in Moscow: "Save on schools - go broke in prisons". For me, this is obvious. For Yamburg, obviously. For any person on the street it is obvious. For reformers, no.
Standards and Warranties
So, a basic condition has been created - it has been decided to save on schools. What's next? According to the Constitution of the Russian Federation, universal secondary education in our country is free. But the Constitution is a synthesis document. It does not say what specifically is called secondary education, the gratuity of which is guaranteed. And as a result of gigantic efforts in this very hermetic booth where reform is being done, new state standards of school education are being adopted. And in them, in fact, nothing is said.
They say only that a graduate, for example, high school students should have such and such competence. Moreover, they are registered with a large margin. For example, a high school graduate after listening to a course of literature is supposed to have linguistic flair, editing skills, some other skills ... Yes, such people cannot be found in the editorial offices of Moscow journals! And this is supposedly required from every graduate of each class of each school. The trick here is that the requirements are as non-specific as possible.
If the standard said that a graduate of a school, after listening to a course, for example, geography, should know the main objects of the Northern Sea Route, be able to explain its economic, political, military significance - that would be verifiable. But when a standard says that a person after a geography course should be able to think geographically - what can I check? Should he know the Northern Sea Route or should he not? Not written. Should be able to show it on the map? Not told.
It became completely unknown - from the moment the standards were adopted - what the state actually guarantees by guaranteeing children free secondary education? What he wants, it guarantees. What will give, thanks for that.
Teacher, official and pedagogical measurements
The country's leadership says: it is necessary to raise the status of the teacher. This means that it is necessary to raise his salary. But the main idea is to save on everything. So what should be done? Right! Reduce the number of teachers.
First there is a simple juggling. Instead of talking about the magnitude of the staff rate, they talk about his salary. No one asks how much a teacher needs to take bets on his chest in order to at least wear his pants sometimes. They say to him: your salary will be as average in the region, but you should be so kind, come on ... According to the "roadmap" of education development, which was published at the beginning of this year, actually, it was published on December 30, under the tree, and read it In early January, it is directly written: how much will the number of teachers decrease, how much will the average load on the remaining teacher increase.
If the reformers had a goal - to save today, but to give the school a chance to recover in the future, they would have kept the hotbeds of "live" schools where deserved teachers work and would not interfere with them. Even Prince Kropotkin reasonably noticed: people are better than institutions. The education system in the Russian Federation, in my opinion, is very bad, but some people are still very good in it. And, in principle, it would be possible to let them move - which, in fact, was in the nineties.
The nineties for education were, on the one hand, a terrible time, because there was no money at all. But on the other hand, they have remained the time that many people remember with delight, because people did not touch. Yes, the money was practically not paid, but did not interfere. Educators could do what they could. Many brilliant schools still preserved - they are from there, from the nineties. When the people whose eyes lit up, no one interfered. They worked. They composed something. Someone consulted. Did. And now this will not work, because the educational branch of the power vertical has been very prolific.
These bureaucrats educational very much. In my opinion, already if not more than the teachers themselves, then a comparable amount. And they need to prove all the time that they eat their bread for good reason. And here they come to schools and naturally prevent teachers from living. "But show us the lesson plan you developed in August." "Why do you say that in March 42 you will talk about that, but you didn't talk about it, but talked about 41?" "And would you like to go out and never work in any other school?"
This is all a bitter madness, but it is explicable. These officials - apparently, often looking in the mirror - do not trust anyone. No one. And they believe exclusively in what they themselves call "pedagogical dimensions." Just recently there were twenty years of the Higher School of Economics. This is the main ideological center of the entire educational reform. And in the ceremonial interview, the rector of this school, Yaroslav Ivanovich Kuzminov, the second most important achievement of the university he heads, called the development of these same pedagogical dimensions. What it is? In my opinion, their essence is explained very simply. Pedagogical measurements are the art of judging the quality of education, not looking at the student or the teacher, but looking only at the pieces of paper.
Officials do not believe people. Well, how am I going to ask you, is a good school in the next block? Who are you? Who am i? I myself also do not believe. Therefore, let's create such a bunch of pieces of paper so that we can judge about the quality of the school in the next quarter, ostensibly, impassively and objectively. And this mountain of papers in school is growing every year. And the phrase that a school is the place where children prevent teachers from filling out papers for the education department has long ceased to be a joke.
Of course, the officials were always - no less arrogant and no more literate. The Bolshevik officials of the first years of the revolution are another song, and then they also destroyed the tsarist education system. But there is one "but": in tsarist Russia, although it was at that time a very good education, it was, in fact, elitist. Within its framework, not even fifty studied, but on the strength of fifteen to twenty percent of the youth. That is, compared with the Soviet system of universal education, the remnants of which are dying now, coverage was much less.
Tasks for complication
With all its drawbacks, the Soviet school was the current system, which provided a certain basic level of education for almost everyone. Of course, towards the end of the Soviet Union, this system was already slipping strongly. But, nevertheless, she passed most of the population through her gears, and from this a lot of things followed.
For example, it followed that people - ours, Soviet generations - have a common canon. A lot of general knowledge was crammed into us. We have common quotes from Griboedov and Ostrovsky, general knowledge about "War and Peace". In the modern school of this canon is less and less. She is today incomparably more difficult than the school was in Soviet times. The tasks that it faces are more and more different from the Soviet tasks in the direction of complexity.
The first is the children themselves. The material that goes to school today, these kids are more unhealthy. They have a lot of congenital diseases, which limit their possibilities in various ways.
The second is that it has grown incredibly, compared to Soviet times, and social stratification continues to grow. For school this is a scourge. It is one thing, a well-established pattern, when people of one social stratum live in the West End of London, and people of another stratum live in the East End. In modern Moscow, this is not. Social stratification passes through most school classes, and this is a convicted complication of the teacher's work. Then, the national composition is changing dramatically. In many schools of the same Moscow, most of the children who come to the first grade speak little or no Russian at all.
The USE has radically changed the approach to schooling. He made school education flat. In recent years, children are not taught, but they are being drafted into pointless business. Well, this test is meaningless! He may be good in itself: when a child studies diligently, it will fill out any such piece of paper between deeds, put ticks in it and will not even remember it the next day. And when all schooling comes down to filling out this piece of paper, it turns out very quickly: no one has time to carry on any meaningful conversations with the child, and he does not want to.
When children are taught to tick, it's a disaster. Because the main function of the school is quite different - to instill in the child the ability to learn. And the children who today leave the majority of schools are no longer taught. These are humanly lost people, they are insanely pitiful. This is why the classical gymnasium in tsarist Russia, with stubbornness, many seemingly wild, continued to force children to learn not only Latin, but also ancient Greek. Because the school is in urgent need of deliberately difficult work. A man with brilliant natural abilities read a textbook on physics and remembered - it is not necessary to teach him. But ancient Greek must be taught with all abilities. Moreover: the higher your abilities, the harder it is to make yourself sit straight and work.
And when we are told today that the school should teach, in the interests of children, that the same homework should not be given to children - I do not mind. But then say this openly, out loud: guys, the school is a place like a locker. You surrender your baby there in the morning. It does not run through the streets, does not sniff glue in basements, does not attack with a knife on its own kind. It sits quietly until the evening. And that's all. And don't ask us about anything else. If you do not know anything else, say it out loud. And, maybe, you will rather be replaced at your posts.
These tasks are complicated by the waves, and the freedom of the hands and financial possibilities to solve them is becoming less and less. This is very, very bad. What should I say to every normal person? To every normal person I must say to the old maxim: the salvation of the drowning is the work of the drowning themselves. Living people by themselves, without the state, cannot save the unified education system. But they can and should save individual schools that their children attend.
Way of salvation
How can parents save school? There are some formal reasons. The fact is that in schools there are so-called board of trustees - they have certain powers, and if they do not, they can seize them. Come to the school where your children go, where your children should go, talk with the teacher, talk with the director. They are living people, they love when they communicate with them normally, and do not mutually yell. Ask for help. They really need to help. Moreover, it is often necessary to help not only and not always necessarily with money. There are lots of other ways.
You can tell the kids something as a specialist - tell us. Can you bring someone who can tell - bring. You can "cover" them with the connections from the department of education - do it. If you have found a school for your children that basically suits you, do everything you can for it.
Before the final stages of reform, I literally every week talked about it with a variety of people. And they all gave me the same rating. According to experts, at the end of the 2000s, every seventh school was in Russia. Or every sixth, seventh, eighth. This figure depended on the speaker's optimism, but they all singled out some share of the schools where they really taught. And the education of children is increasingly becoming the responsibility of the parents.
Home School - the underground. Paid school is inevitable
The role of home education today turns out to be hypertrophied, and this is not good. It has its advantages, of course, but in general, its popularity - from misfortune. Something bad has to happen to the country so that home education becomes widespread.
In recent years, the best Moscow teachers have been trying to crawl away from school. They took the minimum workload and went into tutoring, where they earned more than a month of school work in one day. And those parents, who nevertheless wanted to teach their children, and not train them on the USE, also necessarily moved to the tutors.
But, alas, parents are different too. To say that they all equally understand the value of education for their children would mean to greatly embellish reality. Do not fool the child's head, do not load his homework. Keep him sitting quietly in the classroom, and then give him a certificate and leave him alone forever - unfortunately, so many adults think so. And so I am a supporter of the collection of all the forces that are. Supporter that parents, who really want education for their children, do not go into the home underground, but unite efforts around the surviving schools. It must be done. Schools will die without you, and you without them, so this is a mutual interest.
We must be aware that secondary education will increasingly become paid - it is inevitable. Do not be too sad about it. Remember? Back in Soviet times, they said: "Whoever is treated for nothing, he is treated for nothing." Or: "Who learns for free - he learns for nothing." It is necessary to create civilized tools for working in new conditions. We need educational loans, we need patrons of arts, we need funds to support talented children.
In general, we need non-state things, but capable of mitigating gaps in public policy. To soften not frontally, but specifically in specific areas, for a specific capable child, in a specific block, where two dozen not only clever, but active smart fathers and mothers, who huddled together and keep the local school afloat, accumulated.
In 1981, I had a chance to go to Poland. There then was a terrible crisis; in Warsaw, there were two items in free sale: from non-food products - flowers, from food - vinegar. And the Poles told me a wonderful joke: "What is the way out of this situation? Outputs two - one more likely, the other less likely. The more likely is that angels will descend from the sky and arrange everything for us. Less likely - that we ourselves will do something. " This anecdote is about our school today and about us.