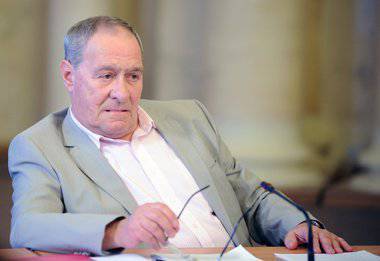 The St. Petersburg Center of the Russian Academy of Sciences ended the international forum "New Technologies for the New Economy of Russia". The main attention was drawn to breakthrough research, primarily interdisciplinary, at the interface of medicine, physics, and chemistry. At the same time, a huge interest was aroused by the speech of the Director of the Institute for National Economic Forecasting, Victor Ivanter. The readers of File-RF have the opportunity to look at the domestic economy through the eyes of a famous scientist.
A key factor in today's development is the rate of economic growth. In general, it seems that moving quickly is better than slow. On the other hand, a version arises that, perhaps, it is necessary to move slowly, but very qualitatively. From an economic point of view, the last consideration seems to be meaningless. Because the quality movement is certainly innovative; there is no innovation without investment, and no one invests in a "standing" economy. Such a scheme is true for a predominantly market type economy based on a demand system. Demand creates a need for investment, but investment requires innovation. This is the case, and not at all because someone wants innovation - they are absolutely not necessary and not interesting for normal business. But the competitive environment requires that it be cheaper and better, and this is impossible without innovation and investment.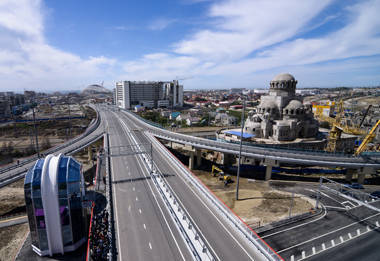 The development of transport infrastructure in Sochi. View of the autostart at Adler – Vesele. Photo ITAR-TASS.
Now they say a lot that the main obstacles to Russia's economic growth are "bad" in the economic sense, state institutions: courts are judged incorrectly, there is a "telephone right", competition is also violated by bribes ...
A small retreat. It is generally accepted that traffic cops should be considered the most important bribe takers. My friends and I have a very long driving experience, but for many decades I have not heard that traffic police officers directly extort money. Yes, we were stopped for violations, but we didn't want to waste time paying fines and seduced the cops with "on-the-spot". But that they demanded - this was not. And when I hear that a well-known international fund knows exactly the volume of Russian bribes, I involuntarily wonder: how do they calculate? Has anyone calculated the average tribute even to the same traffic cop? And another question: in 2006, we had the same institutions as now, or others? You will agree that it is definitely not better than today, however, the country's economic growth rates were under 8% per year ...
Prime Minister Medvedev recently said that we have the best Civil Code in the world. But this is neither more nor less than an economic constitution. But if the codes are good, then the judges are "bad." And we have "spare" to remove these, and put the others?
I have the impression that such "explanations" of critics derive because of the unwillingness to do something themselves.
Meanwhile, there are clear economic reasons why Russia is now slowing down. We were moving quite effectively, but in 2009, the global crisis hit us. He came from the United States - from the fact that there they lent for the construction of housing to anyone who asks, and knowing in advance that not everyone will be able to return. But they still gave it (by the way, in the States, unlike us, with deceived real estate investors, houses were built). All this lasted for a long time and, in the end, led to a logical result. But we did nothing wrong with you, we did not give out money. How then were affected by this crisis?
First, thanks to the relatively high prices for our energy, we have accumulated very large foreign exchange reserves. This money, about 600 billion dollars, we kept in the United States. At the same time, our large corporations, enterprises and banks scored loans for 500 billion dollars. That is, we sent the money there, and they returned us back as if they were our own. The difference is that we placed our savings at two percent, and they gave us loans at eight. This margin was, apparently, a kind of payment for our "inability to manage money." Probably, we did this because of the persistent "popular" conviction: they say, "give me a Russian whatever — it will still steal, and you cannot follow." But if we first transfer funds there, and then they give them back to us, then overseas capitalists will control where this money goes. " But they are normal people. Why should they follow when they have a deposit in their accounts? And, of course, no one asked our masters of the oligarchs whether the loans received were used effectively.
Secondly, unfortunately, the structure of the economy of our exports was unsuccessful - we sell oil, gas and metals. Now Russia produces about 520 million tons of oil, of which within the country somewhere 250 – 280 million are used - there is no shortage of fuel. What to do with the rest? Save, do not take out, keep with you? And who guarantees that in 20 years they will buy it from us, and even for a good price? Therefore, surplus is sold. When you are told about the "raw curse", this is complete nonsense. Find me a country that would not want such a "curse."
And when they say that Russia is a raw materials appendage, it is nonsense. If you allow foreigners to conduct all geological work on their territory, you have built oil pipelines, gas pipelines, etc., and for this you only get some interest, then you are a raw materials appendage. And we have nothing like it - we do everything ourselves. Now, however, there is a certain danger, since a significant part of the equipment that our mining companies use is imported. But so far we have not become any raw materials appendage. Moreover, we are the only large modern energy independent power in the world, this is our indisputable advantage. And although we were frightened that the prices for oil and gas would fall tomorrow, they, fortunately, are not falling. In general, we survived even in the most difficult time, for example, when in December 2008 of a year a barrel of oil cost 39,5 dollars. Because, on average, production costs we have about 15 dollars per barrel, and Rosneft has about 12 dollars in general. Where do you find more production with such a level of profitability?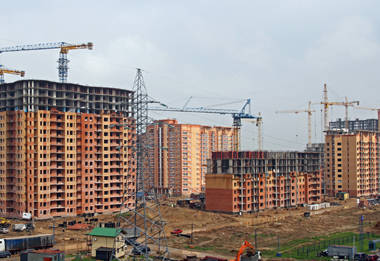 Construction of a new residential complex. Photo ITAR-TASS.
Is the price of oil significant? Of course, it is essential for our investment activity: if a barrel costs 40 dollars, then we don't drill in the Arctic, and if 80 we drill. For our promising work is very important. Now oil on the world market costs 107 – 109 dollars per barrel, exports are growing, everything is fine with gas, but then what happened, why did the country reduce growth rates?
We have an economic structure that cannot suit - but not in that stupid sense that "it's time to stop producing oil and gas, since nobody needs it, and we will all write computer programs and trade them". The problem is that in a number of cases we ourselves have got into export dependence. For example, our metallurgy today is an export-oriented industry. But if you think that we supply high-quality metal to the world market, then you are mistaken. We sell the "primary", semi-finished products, slabs. Thus, by the way, allowed the Americans to restructure their metallurgical industry. And now we are competing with their already modernized industry in the market ... of China. And there metal production is fantastic!
I remember how back in the Soviet Union we celebrated steel production in the record volume of 100 million tons. But now we produce half as much, and China is unimaginably more: 500 million tons. However, if you and I were developing the infrastructure more actively, building roads, then metallurgy would cease to depend on exports. After all, it only seems that the tracks are made of sand, gravel, concrete, etc. In reality, the road is a tremendous amount of metal-intensive structures. And the creation of transport infrastructure is able to provide sales of almost any volume of the Russian metallurgy.
Although here we have achievements. In the Soviet Union, eternal shortages were large-diameter pipes. We solved this problem. Gas and oil pipelines provided with their own pipes. We have every reason to make metallurgy an internally oriented industry, and in this case there will not be the current problem associated with the fall in world metal prices.
The same with coal, where difficulties are associated with declining prices for it and the fact that we have almost eliminated domestic coal generation - this is largely due to the high cost of transportation. From Kuzbass to any port - one and a half to two thousand kilometers, while Australia extracts coal in the neighborhood of the sea terminal. And water transportation is much cheaper than all other types of transportation. We are able to recreate a well-thought-out system of domestic Russian coal consumption.
That is, it turns out that today's problems with metals and coal we have created in many ways ourselves ...
In general, Russia emerged from 2008 – 2009 crisis quite well, compared to 1998. Moreover, we learned about "crisis-2008" from newspapers and speeches, while "default-98" was felt by most when the savings disappeared and prices jumped four times. It must be said that the authorities in 2008 – 2009 have acted absolutely adequately: they defended the deposits of the population and the corporate sector, thereby preserving the wages of the inhabitants of the country. True, these correct steps were explained to people as odd: "We are saving the banks". Naturally, they all thought: "Why would bankers help out again?" Nothing of the kind, no bankers were saved. In general, it is quite difficult to drown them, they are very tenacious. In 1998, banks went bankrupt, but we didn't see their owners as bankrupt. Anyone from the 20 floor! All alive and well!
In 1998, the government saved the banks. And in the current crisis - the investor. The population (it always behaves correctly), seeing this, instead of squandering money, carried the accumulated funds to the banks. True, we again did not support the real sector enough - there was a recession.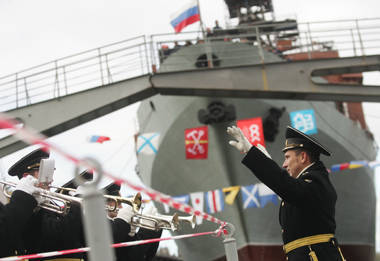 Launching of the head communication vessel "Yuri Ivanov" in St. Petersburg. Photo ITAR-TASS.
If you remember, 50 was allocated billions of dollars to save corporations that have large stakes in Western banks. The version was this: our securities will be taken away - and we will be left without strategic enterprises. But life is more complicated. Western banks did accept securities of strategic enterprises as a pledge, but could not and could not do anything with them: this requires a special government decree. Therefore, foreign banks began to restructure these packages, which did not cost 50, but less than five billion dollars.
In 1998 – 1999, we had a sharp decline in exports of metal, basic chemistry, cement, cellulose, and now this does not happen. Then why does a crisis arise? Intelligently, it can be called like this: they took the "investment pause". We completed construction for the APEC summit, gas and oil pipelines in the Far East, and we are finishing in Sochi. This decline in investment quite logically slowed down investment activity in the whole country. Given that the government, which reported on the savings due to the crisis, has called for active private capital.
However, there is a simple principle: either the budget is invested, and after it the private sector is invested, or there will be a crisis. With the same freeways: if the state allocates money for their construction, then "private traders" also connect - they don't need to agitate, they understand: there is a road - there will be transportation, not to mention that the trade and service infrastructure is actively developing around the highway ... But again the choir of skeptics comes in, that everything is stolen, that the World Cup is a nightmare.
What is the advantage of the Olympic Games in Sochi, the Universiade, the APEC summit? We cannot move deadlines. If it were not for the Olympics, we would have built 20 for years in Sochi. And here - without any options. And the football championship can not be transferred. Therefore, everything will be built on time, as expected. This is a big incentive. But we need to revive the rest of the economy. And it is activated when there is a clear and tough task.
If the current pace of development of the economy (1,8 percent) does not suit us - it means that we must fulfill everything that was promised. Do not invent anything, but just do it. We agreed that we will restore the normal appearance of our infrastructure, build roads — both roads and railways. Our mining industry is a huge solvent demand for technical re-equipment, revitalization of the sectoral and fundamental science, restructuring of mechanical engineering ... We still have a bright chance to carry out a "reverse conversion". "Normal" is when military production is reduced and civilian production is increased by it. At one time we did not. But now we have a unique opportunity - by restoring the defense-industrial complex, to tighten the level of the whole industry. And periodically arising attempts to reduce the volume of military spending is a struggle, first of all, with the technological re-equipment of the country ...
Finally, we agreed to invest in housing. This is an amazing industry. Firstly, it attracts imports to a minimum, and secondly, very effectively makes people work. They get an apartment, and then have to pay for it from the salary. This is also a powerful anti-inflation measure, because he does not spend the money that a new settlement earns, but gives it to the state to repay the loan. In a word, there is a tremendous number of measures, decisions on which have already been taken, but their implementation proceeds sadly and slowly.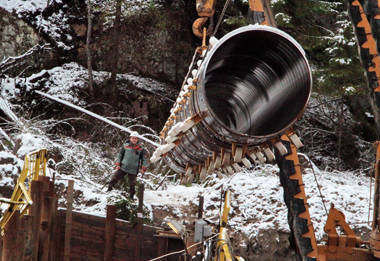 Construction of the Nord Stream gas pipeline in the Leningrad Region. Photo ITAR-TASS.
From 1980 to 1988, we "persuaded" the economy to become efficient, took the most serious decisions of the Central Committee and the Council of Ministers, and she, in itself, did not get any better. And now we demand growth from her, but at the same time, since there is little income, we are going to cut costs.
There is a
historical
problem of husband and wife. He says: "you need to spend less," and she - "you need to earn more." But if the family has the opportunity to switch to the economy mode in order to balance, then in the economy this is completely unacceptable. If you cut expenses, incomes are reduced. You still reduce costs, incomes fall again, and so on ad infinitum. Such a paradox. Because in the economy, spending is demand. Without demand, nothing happens. They say: "there are senseless, inefficient expenses." Yes, but these must be disposed of regardless of whether the crisis is now or not. They simply should not be.
And in the economic cycle, when your income decreases, you need to increase spending - in order to increase income later. If you reduce costs, you drive yourself into a corner. Although, formally, everything looks logical: "since there's not enough money, let's spend less". But rightly so: if there is not enough money, let's earn more, and the only way to earn more is to spend more.
We must restore investment assets in the country, which will create another basis for economic development. Moreover, there is the problem of the minimum acceptable rate of economic growth in Russia. 2-2,5 percent per year - the rate at which we can maintain the standard of living that we have now. Imagine that you 20 years have not repaired your own apartment. She, of course, decayed. Then you finally decided and spent a significant amount on repairs. In this case, the apartment remained the same, you just restored what you need. And the state has such "physical debts" when it is necessary to maintain facilities that have not been repaired for decades. And the infrastructure in the Far East must be restored - no one expected such a devastating flood. That is, we will have to spend at least 2-2,5 percent of GDP only to keep the standard of living that we have today.
There is another fundamental problem - wages. Since Soviet times, there is a joke: "how we get paid, we work like this," and now nothing has changed.
However, Henry Ford, a very successful entrepreneur, who, among other things, wrote many books, called one of the chapters: "The main factor in the growth of labor productivity is high wages." This, whether we like it or not, is true. To get efficient production, you need a high salary. Only then all the technologies work. If low wages do not work, any measures and technologies are ineffective; people work differently.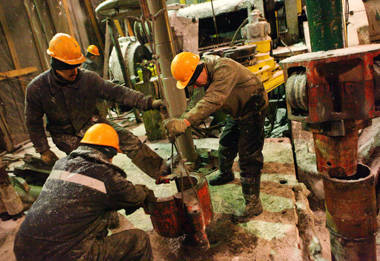 Exploration of oil reserves. Photo ITAR-TASS.
Skeptics here insert: they say, we have the "wrong" people - drink, smoke, take time off, "run around the women" - they cannot be paid a lot. One might think that Ford had exclusively intellectuals working on the assembly ... In fact, everything Ford had achieved was based on a high salary. But if you establish a decent wage, a high level of organization is required. Only then there is a need for new technologies.
And naturally, it would be desirable that we not only had a demand for innovations, but that we were ready for this, and that these technologies were generated domestically. Business is international. At that moment, when you are missing something, you can buy it on the side, only the effectiveness of the solution falls.
The conclusion is simple. Reasoning that we must come to terms with low rates of economic growth is destructive for the country. It is important to nod less at the machinations of the "external enemy", and to mobilize domestic resources, and then things will go. We have all the opportunities to start a large-scale economic recovery.