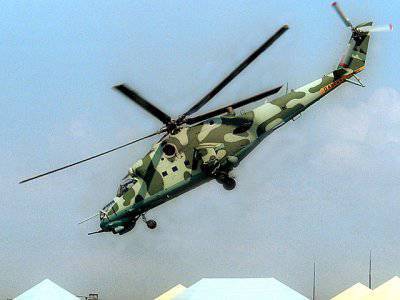 Russia plans to close commitments to Brazil for the supply of Mi-35 helicopters in the near future. The head of the Federal Service for Military-Technical Cooperation, Alexander Fomin, told reporters about this.
According to Interfax, the contract for the supply of helicopters to Brazil was signed in 2008 year. Russia was supposed to put 12 helicopters in four steps. Three batches were delivered on time, the fourth for technical reasons was sent later. Now, according to Fomin, problems have been solved and acceptance has already begun. Depending on its speed, the delivery will be completed at the end of this year and the beginning of the next.
This is not the only cooperation of Russian helicopter pilots with Latin America. In the near future, a helicopter maintenance and repair center may appear in Peru. As Alexander Fomin explained, in order for such a center to be profitable, the customer must have 30-40 rotary-wing machines. Given the possible contract for the Russian Mi-171, the Peruvian helicopter fleet can reach this volume very soon.