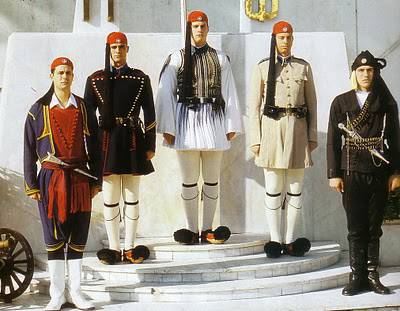 Military uniform in each state has its own characteristics. Often a military uniform can also define the so-called civil style, that is, the style
men's clothes
, which prefers a large enough number of the population of the country. One example is the "military" style, which, we are told, came from the West, but in Russia they are well aware of their own traditions of using military uniforms as everyday civilian clothing. Stalin's french - one of the examples of how military style came into vogue. The only difference is that today such a style is fashion, but more than half a century ago in our country such a "style" was due to another - many men (especially right after the war) simply did not have the opportunity to wear something else instead of a military uniform.
Stores 40-x and 50-x, as many know, did not spoil a large variety of civilian clothing.
Today, military style clothing preferred in different countries. There are even special designer collections that use "military" as a basis. It should be noted that such collections concern not only men's, but also women's clothing. Not so long ago, Italian catwalks submitted to the collections of the designer, who presented new clothes as a combination of the style of the Italian military era of the Second World War and additions taken from the modern Italian uniform.
There are such military units in the world, whose form is difficult to transform into a civilian suit. One such example is the form of the Greek Guards. These are the very soldiers who are dressed so exotic that they attract attention no less than the ruins of the Parthenon. Millions of tourists come to see such a spectacle as the changing of the military guard of Evzoni every year. Everyone is madly in love with this not even a military one, but rather a ritual ritual, but even the most creative and courageous fashion designers are unable to adopt items of clothing soldier soldier Evzoni.
The heads of the Greek sentry (from Evzoni) are decorated with red berets with long black tassels. There are specific shoes on their feet, the socks of which are topped with black "bumbonchiki" of a rather large size. Legs are covered with white golf. And as an outerwear, a rather long jacket is presented.