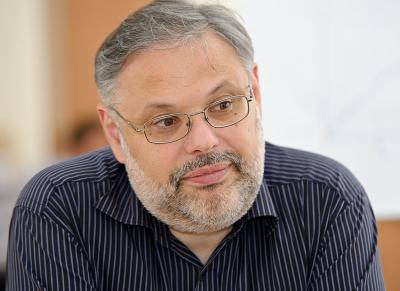 Putin spoke about the global economy. And he did it at the APEC summit, which suggests that he was asked to do it. Explicitly or implicitly. Accordingly, it is fundamentally important not only what he said, but how that said can be used.
I ask you not to treat this text as a conspiracy. The fact is that the beginning crisis is not only objective, but also fundamentally subjective in nature - in the sense that it categorically demands that someone take responsibility for the events taking place. Whether this someone will be found guilty or, on the contrary, will become a hero - this is a second time. The main thing is that in any case, the public needs to present someone, someone, behind whose back real decisions will be made (or they will be made by themselves).
If we look at the role of Russia, we will see that in recent years it has been in the shadow (even from G8 it was virtually excluded), and even in a somewhat humble position. The situation has not changed, just look at the policy towards Ukraine, Russia's interests in the world, or, say,
stories
with a Russian diplomat in the Netherlands. Well, for example: imagine that you would beat and took to the station the acting ambassador of Great Britain or the USA in the Netherlands, and with his children! What would rise! And we, apparently, once again swallowed.
By the way, we ourselves, in general, agree regularly to the recognition of our status as a "banana republic." Well, in fact: can a country that is serious about its status agree to the adoption of a law, the text of which does not exist in the state language? But this is exactly how the document on our accession to the WTO was ratified - there were no rules for this very entry in Russian. I don't even know if there is such a text now and how adequate and variable it is (after all, this text is not approved by law).
You can still recall Putin's conversation with Merkel, in which he scolded the idea of ​​saving banks at the expense of depositors' money. A few weeks after that, his own finance minister happily signed the final document G20, which reaffirmed Merkel's concept, and Putin himself, respectively, was refuted ... Yes, and many such stories, even too much.
And in this situation, we see Putin getting to the forefront of world politics. He is actively advertised by Western media outlets, including even openly Russophobic ones, he is led out to the main "peacekeepers" (even it is a pity that he is not Alexander), they begin to ask him about various topics that, in general, are not within his professional knowledge. . Including about the economy.
The question is, why?
I have no exact answer. But there are several hypotheses.
The first. Some in the world do not like that Russia can remain out of the sharp conflict that may occur in the Middle East. At the same time, its gain is obvious: a rise in oil prices and an increase in the dependence of the world economy on Russian oil supplies, which means that we need to ensure a loss. Accordingly, Putin needs to be dragged to the political foreground, to make him become one of the main actors, to drag Russian troops into Syria — and then, after they become a victim of provocation, to make Russia a real participant in the war.
At the same time, the same world mass media, which were silent about the WTO and the Russian diplomat, will constantly argue - well, Vladimir Vladimirovich, you are a world leader, it's unbearable for you to watch Russian soldiers being killed. Well, and so on ... And then add: look, one more effort, peace will be provided, you can get the Nobel Prize ... And the economic crisis will stop, just like you said ... If you carry out such an operation competently, it may well go.
The second hypothesis. It consists in the fact that a new round of crisis will begin soon, but it is impossible to say this out loud. In addition, it is desirable that everyone thinks that it will not start - until the critical moment arrives. They no longer have their faith - both Obama and the European leaders have lied so much that no one believes their words. And then Putin's just advertised appears, who says that although there will still be difficulties, the peak has already been passed. Everyone is happy, they begin to spend money, and then it all begins ... The hypothesis looks somewhat pretentious, but we recall that our leaders very often said "no, this cannot be" before the very beginning of various kinds of crisis processes. Too often for this to be an accident.
There is a third hypothesis. Our "liberals" so often repeated "everything is fine, beautiful marquise", "everything is under control", "there are some problems, but we know how to cope with them" and so on and so forth (the lack of added taste) that Putin - imbued with. He was used to believing pleasant people (although the "liberals" only "threw" him many times in the last six months), and he repeated what he was used to ... And it's not very interesting to him how it will be used by someone.
... In general, it turned out what happened. Clearly, no "peak of crisis" has been passed, it hasn't started yet, by and large. Structural discrepancies between household expenditures and their real disposable incomes have been and still are. Debts have not resolved. Unemployment is growing and growing. And the crisis, of course, will only intensify, that we have, that beyond our limits. However, we now come to an extremely dangerous point.
The fact is that the improvement of the world situation (for which Putin is advocating) will inevitably lead to a fall in world prices for oil and gas. And because "military premium" leaves the price, and because Iran enters the world market, from which sanctions will be lifted, and because the reduction in demand (which will continue anyway) will lead to a decrease in the volume of oil sold ... oil is the ruble exchange rate.
In other words, the ruble will show a clear downward trend.
And then what will our banks and corporations, which in the absence of ruble crediting have gained foreign currency debts, will do? Will it be problematic to return them? Such a problem 1998 year turns out ... And I have a suspicion that the case is already nearing a critical point. Since believing that our "liberals" (yes, what's really there, they will write honestly, liberals) can, of good will, confess to Putin that an economic downturn has begun, I can't, in theory they were supposed to stimulate the economy and budget revenues continue to devalue the ruble. And, having started cheerfully, at some moment they stopped doing it, and instead announced a sequestration of the budget. What Putin confessed to the real state of affairs.
According to various experts, for more or less real economic stimulation, the ruble would have to devalue interest on 40 (that is, to 42-43 per dollar), and the government stopped at 15% (that is, 35 rubles per dollar). One wonders the question - maybe this is the critical point beyond which massive bankruptcies of dollar debtors begin? And what will happen to them if the ruble begins to fall ...
In general, if Putin needs peace, then liberals need war. And it is possible that they act on a couple with those who are drawing Russia into the Middle Eastern war. However, we have already got far, so the main conclusion from the text needs to be repeated: there is no reason to improve the economic situation, the crisis will continue.