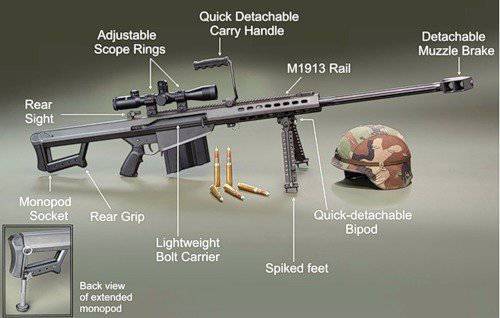 Barret M82A1M / A3 aka M107
The most popular large-caliber sniper rifle in the world.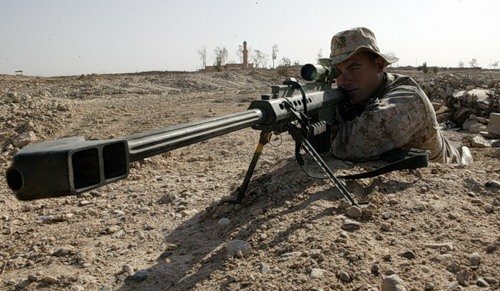 Caliber: .50 BMG (12.7 x 99 mm)
Mechanism: semi-automatic, with a short stroke
Overall length: mm 1448
Barrel length: 737 mm
Weight: kg 12.9 without cartridges
Bullet speed: 868 m / c
Shop: 10 cartridges, box
Sight: 10X Leupold M Series
Maximum effective range: up to 1800 m
The main application: the destruction of cars, trucks, lightly armored combat vehicles of the enemy, communications cabins and radars, aircraft and helicopters in parking lots, manpower at extreme distances and protected shelters, the elimination by sappers of mines by an armor-piercing incendiary bullet.
The "Barret" М82 is in demand where it is necessary to destroy lightly armored and unarmored equipment, warehouses, radars and manpower at long distances. The cartridge from the heavy machine gun 12,7x99 mm is suitable for these purposes as well as possible. True, it is necessary to take into account returns. Despite the effective muzzle brake, it continues to be present in sensations, yet the energy of the cartridge in the area of ​​17000 J makes itself felt.