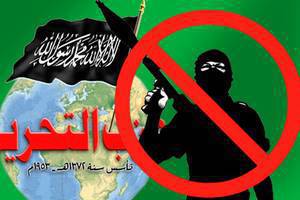 October 2 on the website "Military Review" published material
"What is behind the pseudo-Muslim screen, or Guest radicalism in Moscow?"
. The material was devoted to how in the very center of Moscow, pseudo-Muslim preachers are trying to drive into the heads of Muslims the idea that Russia is a hostile state towards Islam. The material was described video with the "preaching", posted on Youtube. And the video itself, we did not lay out, so as not to create him some kind of advertising. In addition, an appeal was sent to the moderators of the Youtube resource with a proposal to remove this extremist video. Moderators Yutyuba on the proposal did not respond. But the representatives of the Russian special services worked much more quickly.
The press service of law enforcement in Moscow reports that on October 4 a citizen of Kyrgyzstan was arrested, a member of the international extremist organization Hizb-ut Tahrir, who was recruiting new members to the said organization in the Russian Federation. One of ... According to some sources, the name of the recruiter is Makhmudov.
The video, by the way, still hangs on Youtube. And the number of "like" this "sermon" is constantly growing. But this is now a good help for the continuation of the work of the Moscow law enforcement officers, because the recruiter also had "assistants" in the crowd.