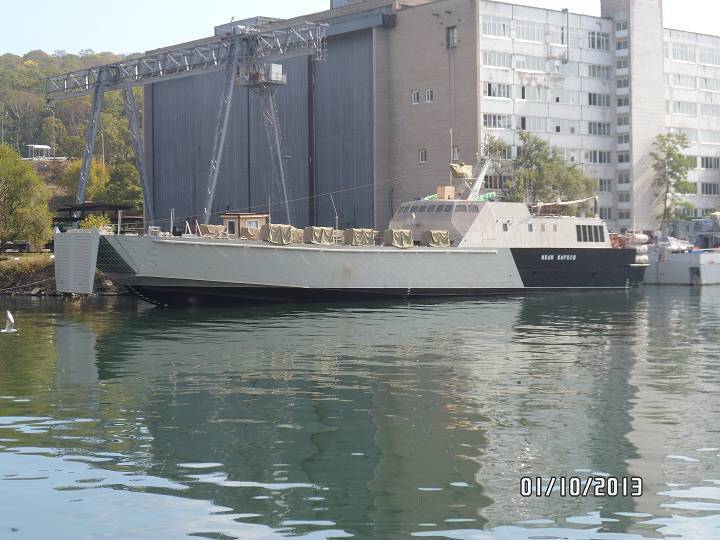 On the evening of September 30, 2013, Vostochnaya Verf OJSC in Vladivostok launched the water from the floating dock of a high-speed landing boat in the air cavity "Ivan Kartsov" (serial number 4001) - the lead boat of the project 21820 being built at this enterprise (code "Dugong") . This is the first boat of this type designed for the Pacific
fleet
Russian Navy. The boat was built at the enterprise since 2010 and was removed from the workshop to a floating dock on September 28, 2013. The delivery of "Ivan Kartsov" is planned by the end of the year.
The lead landing craft of the 21820 project (cipher "Dugong") developed by the Nizhniy Novgorod Open Society "Central Design Bureau for the SEC named after RE Alekseyev" was built at OJSC "Shipbuilding Plant" Volga "in Nizhny Novgorod (serial number 811) and transferred to the Russian Navy in 2010 year joining the Caspian Flotilla as D-105 (in June 2010 of the year was named Ataman Platov). Three more boats of this project under the name Denis Davydov (serial number 701), Lieutenant Rimsky-Korsakov (serial number 702 ) and "Michman Lermontov" (703 serial number) are built under a contract with the Ministry of Russian ones, dated June 2011 year at OAO "Yaroslavl shipyard." The first boat "Denis Davydov" was launched in Yaroslavl, July 26 2013 years.
As reported on the web site, forums.airbase.ru, in addition to launching its head assault boat of the 21820 project, Vostochnaya Verf, also 26, September 2013 of the year was handed over by the Russian-built 21980 anti-diversion boat Rook (8002 number) ), and shortly before that, the floating dock of the 2010 project built for the Navy under the contract from 17789 was commissioned.