It all started with the fact that the publicist Israel Shamir published an article in the "Komsomolskaya Pravda" from 23 of September "Look at Sweden before it was washed away." The author reported that fifteen thousand Syrian refugees had arrived in Sweden, and taking into account the families of the latter, the number of migrants who arrived would grow to one hundred thousand. For sensational information about the unprecedented mass influx of migrants from Syria, Nikolai Starikov clung, suggesting that Sweden, on the instructions of the United States, would take care of and feed the cadres "for a future war in Central Asia, in Russia, in China." The old men even wrote that the entire "terrorist international" would move to the country of the skerries.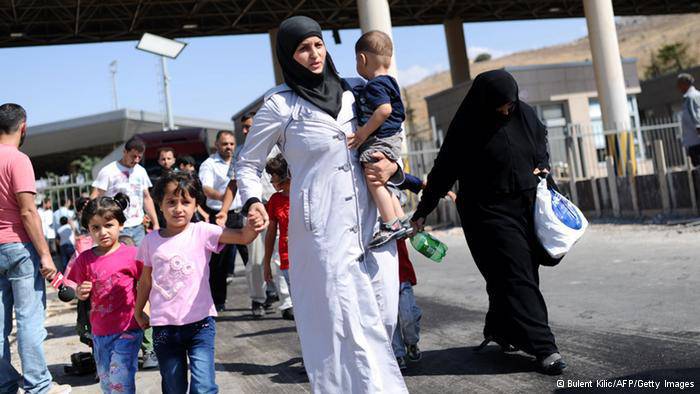 What a horror. Well, and then these terrorists, of course, bearded, and with the Kalashnikovs, showing new Swedish passports on the border, will rush to Russia in thousands to build a Sharia state there and cut off the heads with the wrong ones. Apparently, this is exactly what the Swedes, who are extremely afraid of aggressive Russians, are ready to trample Sweden, and inadvertently Finland, to the music of the ABBA quartet.
The Swedes are not so stupid as to not guess: the Sharia will be arranged first in their homeland.
Therefore, about any one hundred thousand from Syria we are not talking. Not to mention the fact that militants are supposedly moving to Stockholm as if by whole divisions.
Quote from an article by Israel Shamir:
"So far, fifteen thousand Syrian refugees have arrived in Sweden, but taking into account their families, this is already one hundred thousand migrants, which is quite a lot for a country with a population smaller than the Leningrad Region — about eight million people live in Sweden, and two million of them have foreign roots - have they or their parents moved both from the close Baltic, Finland, Russia, and from distant Latin America, the Balkans, Africa. 22 has a million people living in Syria, millions of refugees, their number is increasing every day in anticipation of American bombings, and Sweden is the only country in the world ready to accept them and provide them with a new home.

Many Syrian refugees in Lebanon, Jordan, and Turkey rushed to the Swedish consulates for visas, but this was not the case. A refugee is one who has reached. In order for a Syrian to take refuge, he must first reach Sweden, and this is not easy. She is very far away. And yet, probably many will reach. Every traveler receives 700 euros per month, not counting the paid apartment. Maybe in Syria it was better than in the harsh Circumpolar, but in Sweden - not bombed. "
(A source:
"TVNZ"
from 23 September).
Let's try to be as precise and objective as possible.
The population of Sweden is not "about eight million people", but 9.516.617 people (2012 year, data
World Bank
).
According to information from the Swedish Migration Board, which appeared in the 3 press on September 2013, it was decided to give those Syrian refugees who live in Sweden a permanent residence permit. They are also allowed to take on members of their families.
Sverigesradio.se
reports on 8000 Syrians, and those who were given the right to reside in Sweden a year ago on 3. We are talking about the reunification of refugee families, which cannot but be recognized as an act of humanism.
"The conflict, if it is possible to call it so mildly, has deepened considerably. Since we do not see the possibility of its completion in the foreseeable time, the existing practice should be changed. The laws of international law come into effect, according to which they (refugees from Syria) have the right to permanent residence permits, this is exactly the decision we made, "said Anders Danielsson, Director General of the Migration Board.
At the same time, Mr. Danielsson specifies that they understand in Sweden: more and more people will strive to get into the country.
The Swedish Radio also reports that, to date, 1600 Syrians, who have a temporary permit to reside in Sweden, have applied to the Migration Board with a request for family reunification.
The same numbers can be seen in the September 3 material.
"Radio Liberty"
: Eight thousand Syrian refugees residing in the country and 1600 Syrians who applied to the Swedish Migration Board for family reunification.
We go further. You should know exactly what the number is - fifteen thousand Syrian refugees. No, the author did not take it from the ceiling.
Approximately this total number of Syrian refugees is reported in the Swedish newspaper
"The Local"
(English version of September 13). The note states that hundreds of Syrians who want to get a permanent residence permit, daily express their disappointment that Sweden makes them wait in long lines outside the embassies. What kind of embassies are we talking about? About those that are in Egypt, Jordan and Turkey.
Meanwhile, the situation is as follows: relatives of those who have already received a residence permit in Sweden must first get to Sweden. Standing at the door of the Swedish embassy in any country will lead to nothing.
The newspaper writes that a total of 2012 Syrians came to Sweden in 2013-14700 years to seek asylum. Within the EU, Sweden and Germany accepted the largest number of refugees from a war-torn country. And Sweden became the first country in the EU to offer permanent residence to refugees from Syria.
However, the Migration Service (Migrationsverket) will not issue permits to anyone. The note states that specific cases will be studied. The service is fully aware of the risk: after all, war criminals can also seek asylum.
Today, only those 8000 Syrians can change the status of temporary residents in the country. They will be offered a permanent residence permit.
As for their relatives, we add from ourselves, they will have to first get to Sweden. Truly: "A refugee is the one who has reached."
By the way, with regard to migrant families, Swedish legislation may soon become more liberal.
In a material from 20 September
Swedish Radio
notes that at the party convention of the Center, which is part of the ruling "Alliance for Sweden", delegates voted to liberalize migration policy.
From now on, the party line aims to ensure that Sweden accepts as migrants and relatives of the second and third level: grandmothers, grandfathers, aunt, uncle of the relatives of those refugees who had previously received a residence permit. The party board insisted that the host families themselves should finance the accommodation, but the delegates of the congress did not support this installation. This means that additional "links" can receive in Sweden equal living conditions with the first migrants. But for now this is only the decision of the party congress.
Let's return to the "risks".
5 September 2013 of
Swedish Radio
referring to the newspaper "Dagens Nyheter", published a note stating that about 10 Syrian refugees received a refusal of political asylum from the State Migration Board. Just these people are suspected of committing war crimes in Syria.
Thus, one hundred thousand Syrian refugees to Sweden in the near future is unlikely to get. But war criminals Stockholm is not at all eager to encourage benefits and surround with other social care. 14700 people, of whom 8000 still have to pass an inspection of the migration department, are not that many for a country with a population of 9,5 million people.
And now let's see how Comrade Starikov developed the theme of Syrian refugees in Sweden. Here are some of it
findings
, inspired by the reading of the article of Israel Shamir in Komsomolskaya Pravda:
"Sweden is ruled by a pro-American party ... <...> Washington decided to create a foothold for the militants who are now fighting in Syria. <...> Cadres of militants are needed for a future war in Central Asia, in Russia, in China. They need to be rescued, given shelter. And so Washington "asks" Sweden to accept them. The pro-American government salutes and begins to let everyone into the country, hiding behind humanitarian rhetoric. <…> 15 thousand militants who have already arrived - these are two divisions battered in battles. I wouldn't be surprised if the guys were transported to Sweden on a charter flight. With the help of American or British "partners". Their families will follow. "
This is not all. Further:
"... NOT ONLY militants will move to Sweden - ethnic Syrians. The entire "terrorist international" will move. He will be called "refugees" who have lost their documents and will come. <...> ... St. Petersburg, our border, is just a stone's throw away. The militants will receive absolutely real Swedish passports and will calmly go to us with them. "
Therefore, our need to keep ears on top:
"After half a year - a year, our border guards need to look closely and carefully check the Swedish citizens of" Arab nationality. "
It is easy for Starikov to enlist refugees from Syria — all fifteen thousand — as militants!
Directly the theory of world conspiracy against Russia, and not an attempt by Sweden to give shelter to several thousand victims in Syria and reunite them with their families. Moreover, these distant family members will have to travel to Sweden in difficult and dangerous ways, because the phenomenon in the Swedish embassy somewhere in fraternal Turkey, which is not difficult for many militants, is just not a ride.
Of course, those who will receive benefits in Sweden (700 euro per month, according to Shamir) will not go to Russia in half a year. They generally will not go there. There, the well-fed unemployed life they can not see. As for the restless builders of the Shari'a, then why don't they turn around in Stockholm? Or, say, in Berlin - which recently
объявил
about plans to shelter 5000 Syrian refugees?