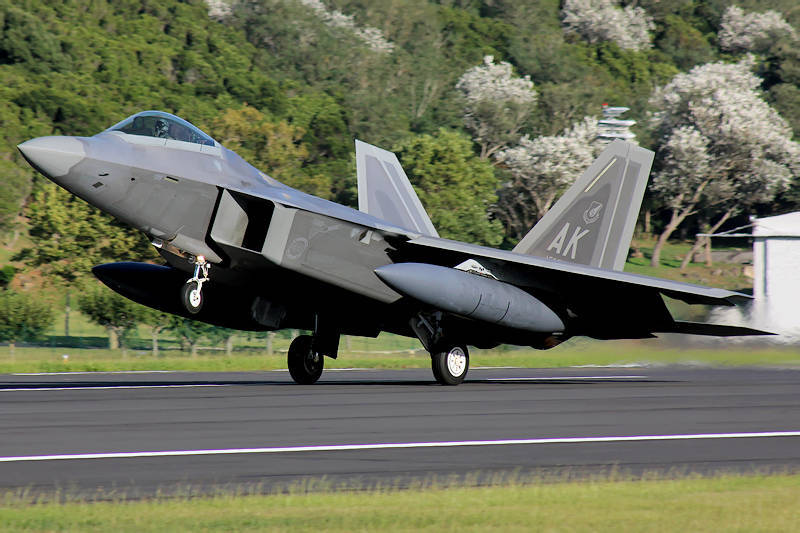 An amateur photographer "caught" landing on the camera F-22 - the only fifth-generation fighter in service with the US Air Force in the Azores. This may mean that Americans are creating a group of stealth fighters in the Middle East.
F-22 is one of the most expensive combat aircraft of the US Air Force, but since its entry into service in 2005, it has never participated in air battles. Until now, the fighter was listed only in a few squadrons in the United States, and the Pentagon, apparently, is trying its best to protect it for future missions, allowing these planes only deliberately safe flights, for example, escorting in neutral airspace of Russian strategic bombers performing patrol.
In particular, in 2007, Secretary of Defense Robert Gates refused to deploy F-22 in Iraq, and all subsequent deployments of these aircraft outside the US were temporary.
However, photos of the F-22 landing made by André Inácio at Lažes airfield (Azores) may indicate that the US military is seriously planning to put the aircraft into action. According to The Aviationist, the sealed fighter is listed as the 3 wing of the US 11 Air Force and is permanently based at the Elmendorf base in Alaska.
Presumably, the captured F-22 are sent to al-Dhafra military base in the United Arab Emirates, where they will join aircraft of this type that had previously arrived in the Middle East. In mid-September, the US Air Force reported that the F-22 for the first time in
stories
came into contact with Iranian aircraft, "chased" the F-4 "Phantom" of the Iranian Air Force from the MQ-1 drone flying over the sea.
Perhaps the transfer of F-22 may be evidence of the preparation of a strike against Syria, since the US military still does not abandon plans for a forceful influence on the government of Bashar al-Assad.
Lockheed Martin F-22 Raptor made its first flight in 1997. Although initially the US authorities wanted to order more 600-like aircraft, because of the high cost of production ($ 150 million per unit), all 187 machines were produced, five of which were lost over the years of operation. The exorbitant costs forced the Pentagon to curtail production of the F-22 and begin the procedure of adopting another fifth-generation fighter - the F-35.
According to foreign media.