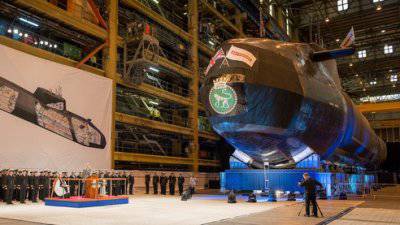 20 in September at the plant of BAE Systems in Barrow-in-Furness held the ceremony of naming the Artful Astute-class nuclear submarine for the British Navy, according to a BAE Systems press release.
During the ceremony, the 7400-ton and 97-meter Artful submarine was officially named in the presence of thousands of spectators to mark the end of the construction process. The ceremony was performed by Lady Amanda Zambellas, wife of the first naval lord of the Royal Military
fleet
Admiral Sir George Zambellas inside the giant Devonshire Dock Hall (DDH) at BAE Systems.
After the ceremony, Artful will remain at DDH to complete a series of commissioning work before being launched at the beginning of 2014 for further testing and acceptance into the fleet.
As the managing director of BAE Systems Maritime - Submarines John Hudson (John Hudson) said, the company decided for the first time to hold a separate naming and launching ceremony.
"We have been designing and building submarines in Barrow for over 100 years, and during this time we have been striving for continuous improvement. This is one of the examples where we took into account the lessons learned from the previous construction of submarines, the result of which will be the most advanced submarine, ever was withdrawn from our shipyard. "
BAE Systems is the main contractor in the design and construction of seven Astute submarines for the Royal Navy of Great Britain.