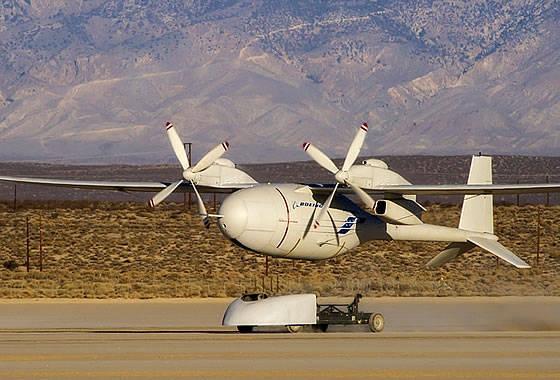 The Boeing Phantom Works conducted the fifth flight test of a long-duration UAV demonstrator Phantom Eye (Phantom Eye), during which it reached an altitude of 28 thousand feet (8480 m).
According to Shepard, the unit, which flew the 14 of September at the NASA "Dryden" FACE at Edwards Air Force Base in California, exceeded the achievement of 14 June, when it reached the altitude of 20 thousand feet during the 4-hour flight. This time, Phantom I was in the air for an hour's 4,5.
This flight was the first in the framework of the UAV Testing Program of the UAV with a set of classified payload provided for in the contract with the Agency for Missile Defense.
The Missile Defense Agency was the first customer to install the payload on board the Phantom Ii. The US Department of Defense 5 June announced the signing of an agreement worth 6,8 million dollars, providing for equipping the existing Phantom I UAV prototype with tools and an unnamed payload. The agreement also provides for the collection and analysis of flight test data in order to assess the potential payload capabilities.
Despite the fact that the flight was declared successful, according to sources, the original purpose of the test was to achieve an altitude of 40 thousand feet.
Equipped with hydrogen-powered engines, the Phantom I UAV is designed to perform information gathering, surveillance and reconnaissance tasks, as well as providing communications. The first flight tests of the UAV were performed 1 June 2012, at the Edwards airbase (California). When landing due to deficiencies in the design of the UAV chassis was damaged. However, the flight was deemed successful. The re-flight took place in February 2013. In total, the demonstrator test program is designed for 8-9 flights.
The developers are positioning the UAV as an analogue of a low-orbit satellite providing reconnaissance, as well as early detection as part of the missile defense system. According to the analysis, the three devices provide replacement of one satellite at a significantly lower cost.
The main advantages of UAVs are the use of hydrogen engines, which are more efficient than hydrocarbon-fueled powerplants, used in the construction of lightweight materials, modern avionics.
According to Boeing, there is a high interest in the Phantom I class devices on the market. With this in mind, the company is developing it. Both military and civilian structures are showing interest in UAVs.
Wingspan "Phantom Ai" - 150 feet (45,7 m). The UAV is equipped with two 2,3-liter 4-cylinder engines with an 150 horsepower. each. The device will be able to develop cruising speed up to 150 knots (275 km / h), fly for a duration of 7-10 of 24 hours at altitudes up to 65 thousand feet and carry a payload weighing up to 450 pounds (204 kg). Management can be carried out by a single operator.