Russia is in dire need of priority development of its own electronic component base.
The deployment of US missile defense elements near the borders of Russia actualized the issue of improving the national missile attack warning system (SPRN), which was created in the Soviet years. Her recent need for ballistic missile launches in the Mediterranean sea confirmed her need. Is our country ready to respond to today's military-political and technological challenges? This and other questions of the weekly "MIC" are answered by the general director of the open joint-stock company "RTI", the general designer of the EWS, Sergei Boev.
"MIC": Sergey Fedotovich, after the events of 1991, we lost our SPRN stations in Krasnoyarsk, Skrunda, Mukachevo, and with great difficulty were able to build the radar in Baranovichi. Then there was a long pause and only recently a second attempt was made to create an all-advanced missile attack warning system. How successful is this work?
- It should be understood that every difficult period in the life of the country is characterized by a serious decline in the development of certain technologies. At the same time, it allows you to take a fresh look at many things, try to rethink what you did before, find the best, qualitatively new solutions.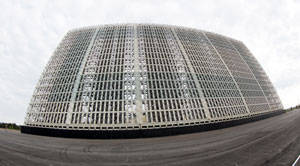 I was impressed by the July 4 1943 document in preparation for one of the conferences. On the eve of the Battle of Kursk, the USSR State Committee for Defense decided to establish a Radar Council. But our country was solving completely different tasks at this time, the army was preparing for a key battle. And nevertheless, a document is being adopted with a long-range view on the solution of other, no less global tasks. Many technological developments that we use so far began precisely at that very difficult time for our Fatherland.
Of course, in the 90-ies, the domestic defense industry under the influence of a number of well-known factors "subsided." Many businesses simply ceased to exist. But those groups that had serious scientific groundwork and prospects were able to survive. In the most difficult conditions, when wages were not paid, hundreds of professionals left, and in such teams they managed to preserve scientific schools. For example, in 1994 we lost at once a thousand-odd specialists of the Radio Engineering Institute named after academician Alexander Lvovich Mints, who went to work at Beeline. But our institute still works for the good of the country, it works perfectly.
Scientific schools just do not fall apart. If you have serious developments and perspectives, if you understand what you have to work on, then there is always the opportunity to reallocate resources and clarify tasks.
With the loss of Skrunda, Mukachevo, Sevastopol, Gabala, Krasnoyarsk, serious problems arose to ensure the integrity of the radar field and protect the Russian Federation in strategic, missile-prone areas. But we understand very well how to solve this problem. Specific deadlines for rectifying the current situation are defined.
At first it was planned by the State Armaments Program to carry out activities before the 2020 year. But the president - the Supreme Commander of the Armed Forces of the Russian Federation set the task to speed up the work and complete it before 2018.
I want to emphasize that such a responsible task is within our power. And largely due to the proposals of our scientists and designers, which they made in the midst of the severe crisis of the 90-s. I mean the concept of fundamentally new radio-electronic complexes based on a digital intelligent phased antenna array, digital signal processing, as well as unique energy-saving methods, which make it possible to abandon the transmission systems that are difficult to operate, water-cooled. This made it possible to create radars that, compared with domestic and foreign counterparts, have higher economic efficiency. The result: a reduction in deployment time by almost three times, a decrease in hardware and engineering systems by more than 10 times, a fourfold reduction in operating costs, a sixfold reduction in the number of service personnel
Once again I want to draw your attention - all these brilliant decisions came into being in the hardest time for our industry and the country as a whole.
Considering the fact that today the Russian space system is not in very good condition, when there is a real lag in the timing of its development, and especially the deployment of important orbital elements on combat duty, we have an additional task. We need to compensate for this gap in the framework of increasing the ground-level SPRS. I am sure this task will be completed.
"MIC": Your direction of work seriously depends on the state of the electronic component base in the country. Computing technology without microprocessors, chips, assemblies can not function. This is probably the most painful problem of our defense industry?
- Today we are solving this problem in about the same way as other enterprises of the military-industrial complex. But we must not forget that OJSC RTI is headed by the Group of Companies, which includes the leader of Russian microelectronics, OJSC NIIME and Micron. This determines our more favorable position in relation to other enterprises.
Today, OJSC NIIME and Micron is the fifth largest in terms of sales among manufacturers of a full cycle in Europe. With the launch of the 90 nanometer-based factory last year, we have reduced the gap with the leading European countries to a minimum.
Believe me, this is not a commercial purpose. We form a real opportunity in the coming years to overcome the dependence in which we are. So far, from 40 to 90 percent of the elemental electronic component base of Russian weapons and military equipment is of foreign manufacture. This is unacceptable as regards ensuring the country's defense capability. Therefore, we still need to seriously work in this direction in order to turn the tide in terms of deep import substitution.
"MIC": And at the very top there is an understanding of the fact that there is a threat to the national security of the country?
- Of course, this understanding is there and the process of understanding the depth of the problem today is essentially complete. But so far the issue is being solved very slowly from the point of view of the state program for the development of the electronic component base. It is necessary to understand: the development of microelectronics, especially new technologies in this field, is a very costly and difficult task. The power of one business does not solve it. Our experience shows that a serious, in-depth and detailed state program for the development of an electronic component base should be built here, within the framework of which the place of public-private partnership will be determined. Otherwise, domestic microelectronics cannot develop steadily.
There are two global programs for the development of microelectronic production in the United States. In Europe - four, in South Korea - three. In Taiwan, China, these are also serious government programs. On the conditions on which we built our factories - 180 and 90 nm, they did not create their own. They had fundamentally different tasks and conditions. But that's not the point. Business can implement such projects independently. The question is that it is not enough to build a factory. The main thing is that the national market should be formed, the optimal segment of the international microelectronics market should be determined. Much depends on the state as a regulator of sectoral development.
It is no secret that today many components that could have been quietly replaced by Micron (from the point of view of import supplies) continue to flow into Russia from abroad. These are various kinds of chips, microcontrollers for onboard systems, systems on a chip for smart cards, and even microchips for passport and visa documents and radio frequency identification chips.
There is another problem that must not be forgotten. We have an insufficient number of design bureaus that would develop microelectronic components, which affects the development of this component. That is, technologically we can make them, but for this we must first design this or that component. And here there is a gap between intention and opportunity.
The task now is, on the one hand, to form a market, and on the other, to create a design bureau at Micron as much as possible. All over the world, ecosystems grow around production sites - design centers, laboratories, research institutes, suppliers of equipment and materials. Microelectronics as an industry is the largest customer of high-tech products. Worldwide, it plays the role of a catalyst for the formation and development of clusters and technology parks. And these are new jobs, which in microelectronics, as world experience shows, generate the effect of a geometric progression, which is very important for a number of regions of our state, since it provides greater employment of the population with high-performance and highly intellectual work.
"MIC": Sometimes it seems that each new control circuit of the defense-industrial complex is to some degree worse than the previous one.
- It seems to me that each of the stages that have sunk into oblivion is characterized by its pluses and minuses. The Soviet period ended, in which, of course, there was a lot of good for the defense industry. But in general, for the country it is not optimal. The control system still had great costs.
Today's stage also highlights their problems. For example, a management system that exists cannot fully satisfy us. For example, because of costs in pricing, lack of benefits in the acquisition of special, especially test equipment. After all, our enterprises are working on the strategic tasks of the state, which means there must be perfect mechanisms for providing them with opportunities and subsidizing these opportunities on the part of the state.
Unfortunately, such mechanisms are not yet fully implemented. And yet, how our defense industry is developing today is one very important positive factor. The situation forces to work seriously on their own competencies and competitive advantages. If you want to achieve cardinal success, to get a fundamentally new product quality and feel confident in the market, you need to constantly work on this task. Without this, you are not a player in the market of production of military equipment. And not only abroad, but also within the country. You will definitely lose and sooner or later you will be left without orders. But behind your back many thousands of staff.
Understanding this, of course, constantly moves forward, gives impetus to not sleep and not only engage in manual control. We came close to project management automation. There is time to think hard about a serious prospect, to turn out scientific and technical reserves for the defense program.
"MIC": An intelligent engineer, especially a designer-designer - a piece product. But the engineering profession is still not the most prestigious in society. But the leading Western corporations are literally buying up our young talents. Will we stay with one show business?
- This problem is undoubtedly relevant and the main thing is that it really exists, especially for the part of the military-industrial complex where weapons have a high intellectual component. Here it is important to have not just an engineer, but an engineer of a new formation, not just a developer, but a developer who is able to solve complex creative tasks.
The Russian education system has undergone major transformations over the past decade. I can not say that all innovations have led us to success, but it is worth noting: if you want to be competitive in the market, the issue of staffing is one of the cornerstones. From the first day of our company's formation, we understood this very well and paid close attention to this task.
Not only Western promoters and "bounty hunters" are scouring our country, taking note of the winners of the Olympiads. We do the same and try to get ahead of them. We take note of those who deserve both in the center and on the periphery; Bauman, as well as in other universities throughout Russia. In addition, OJSC "RTI" sends workers for training in master's and MBA programs. At the Radio Engineering Institute named after Academician A. L. Mints and NPK NIIDAR, postgraduate studies have been opened. The management of our Yaroslavl Radio Plant together with the Yaroslavl State University named after P. G. Demidov (YSU) at the Department of Radio Engineering Systems of YSU created a new specialty related to the development of advanced radio engineering devices and systems. At the Saransk Television Factory, a system of through training of highly qualified personnel for high-precision production was established. The efforts of JSC OKB-Planeta and the Novgorod State University (NovSU) named after Yaroslav the Wise are coordinated by the Regulations on the Scientific and Educational Center.
Another important area. We specifically prepare young people for admission to specialized universities in our pre-university training center on the basis of the Moscow school number 227, with which we have been cooperating for several decades and where we are raising a young shift. Here we are teaching by the forces of our departments of metropolitan universities. Previously, all this was called vocational guidance and was administered by the state. Today we have to organize such work on our own. From the second course we attach the guys to the basic departments. From the third they start working at our enterprises. And after graduation, we try not to lose the best ones, fix them and "put" on the professional wing.
"MIC": At this stage, the Defense Ministry does not appear with its "net"?
- No, it does not appear. Moreover, now with the advent of scientific companies, we ourselves have already actively joined in this work jointly with the Russian Ministry of Defense.
It should be understood that a university graduate is not yet a qualified developer, but, figuratively speaking, the material from which it is necessary to grow a qualified engineer, designer. It takes at least five to seven years. But today, young specialists with eight years of experience work on a number of our weekend projects, say, on radar tasks.
For youth, we also have social programs. In some cases, this is housing, in others - trips, kindergartens, etc. In sum, all this leads to the fact that today the holding problem in providing human resources is largely resolved, there are almost no vacancies.
It is very important to constantly improve the qualifications of specialists, they must feel it, understand and develop. For example, we commissioned the 180 nm factory, then the 90 nm factory, and every time we trained the staff, including abroad. In total, over 400 employees have been trained abroad. They all became specialists with experience in European firms, where there is a lot of modern top-class equipment. Because they have grown to top-class professionals.
"MIC": And there are problems in the solution of which you, as they say, rest against a concrete wall?
- I would not say that there are problems that cannot be solved. But there are those who, unfortunately, are solved hard and long. All the time you have to overcome something, to do, as they say, not thanks, but in spite of. And although in the last year or two the situation began to noticeably change for the better, there are still many bureaucratic obstacles. A topical example is getting the status of a sole performer. Everyone understands that you will become so, but for this you need to go through several bureaucratic procedures. This is the coordination of prices, and the submission of applications for participation in tenders and tenders, receiving an advance. Although your customers are well aware that you are not trying, as they say, to "heat up" someone. All this, of course, takes time, forces to keep an expanded staff of employees who are involved in this process of approvals and preparation of various kinds of documents.
Today we are very seriously concerned with the automation of the processes of the entire life cycle of our products: the automated management of development and design, all stages of their operation. And I seriously hope that soon enough we will be able to process all the necessary documentation in an automated way. As well as to carry out modernization and repair of their stations on the principle of the replacement of units. We have already abandoned the repair units at our facilities, the so-called repair bases. Now everything that fails at the facility is instantly sent to the factories, from where the ready block or cell is being replaced.
MIC: Still, will we be able to create a full-fledged radar field in all directions along the perimeter of Russia?
- In this there can be no doubt. I repeat, the relevant schedule of such work was approved by the Minister of Defense of the Russian Federation, and the deadlines were determined by the President - the Supreme Commander-in-Chief of the RF Armed Forces. From the point of view of the load of enterprises for the future, with their resource provision, we understand everything.
Active work is underway, and those stations that we have to produce in 2014 – 2018 will be commissioned in a planned manner and with the required quality.
So, on the radar complex of high factory readiness (RVZ VZG) "Voronezh-M", which the Deputy Minister of Defense of the Russian Federation Yury Borisov visited not so long ago in the Irkutsk region, the first broadcast was broadcast by the second working sector. These activities were carried out in accordance with the work plan for the preparation of the complex for state testing. After being included as part of the second sector, the VZG steadily detected and accompanied targets in its area of ​​responsibility.
If in the Irkutsk region a new superradar is only gaining strength, then in Lekhtusi (Leningrad region) and near Armavir (Krasnodar region), as you know, two radar stations of high factory readiness have already taken up combat duty. Two more stations are on experimental combat duty and will be commissioned next year. And by 2018, five more similar stations are expected to take over duty.
Yes, not everything goes smoothly. There are, for example, some delays in the construction site preparation for radar installation. We have been working for a long time and, I would say, difficult with the Special Construction Agency of Russia on this issue. I hope this situation will be resolved soon and we will come to the optimal result.
There are, of course, technical problems. We are talking about the seriality of our facilities, but each of them has a certain uniqueness. This is related to the area of ​​deployment, ways of solving the tasks set, etc. Thus, our first stations in Lekhtusi and Armavir were, in a sense, prototypes. They worked out new solutions and approaches. But the stations that today stand near Kaliningrad, Irkutsk, have a more serious potential. And those that we have to build towards 2016 in Orsk, Yeniseisk, Barnaul, Vorkuta and Murmansk will have great "intellectual" capabilities in solving a wide range of combat missions.
Just recently, we won a serious competition for the production of two sophisticated mobile radar systems on land and sea. This is a fundamentally different task for us, which I regard as a new challenge. We accept it and do the work on time. In the field of over-the-horizon radar, our institute for long-distance radio communications is today the world leader. There we also have a very serious program. Before 2018, we will build two very powerful radio hubs with over-the-horizon radar. In total, by this time we will create an extremely necessary information and intelligence component of the East Kazakhstan oblast.
There are other difficult tasks to counter the threat of an aerospace attack. First of all, from the point of view of the development of the information component. In this regard, we have strengthened a number of areas with new teams of researchers and specialists. The work on the creation of a space intelligence subsystem has been maximally activated.
"MIC": Sergey Fedotovich, September 17 You turned 60 years. Accept from the readers of the "MIC" congratulations on the anniversary and sincere wishes of health, family well-being and successful solution of the whole complex of research and production tasks facing your company and you personally.
- Thank.
Help "MIC"
OJSC RTI is a large Russian industry holding. RTI enterprises have their own production and R&D infrastructure and implement projects of unique complexity and scale in the field of radio and space technologies, security and microelectronics, as well as system integration. RTI's product portfolio is represented by ready-made solutions in the field of national defense, integrated communication and security systems, industrial microelectronics, smart cards and electronic carriers for passport and visa documents, as well as major defense projects of national importance. OJSC RTI includes OJSC Concern RTI Systems (97%), OJSC SITRONICS (100%) and CJSC NVision Group (50% + 0,5 shares). RTI is a member of the Defense News Top-100 international ranking. At the end of 2012, the company ranked 80th in the top XNUMX largest defense companies in the world.
Private bussinessBoev Sergey Fedotovich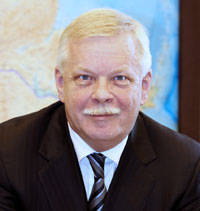 Born 17 September 1953 year in Moscow. In 1978, he graduated from the All-Union Law Correspondence Institute, in 1984, the Moscow Institute of Management named after Sergo Ordzhonikidze. Doctor of Economics, Professor, Honored Economist of the Russian Federation. Winner of the State Prize of the Russian Federation in the field of science and technology. Member of the Presidential Council for Economic Modernization and Innovative Development of Russia and the Scientific Council under the Security Council of the Russian Federation, member of the Academy of Military Sciences, Head of the Department of Intelligent Radio Physical Information Systems at MIPT. In 1971 – 1999, he worked at the Radiotechnical Institute named after Academician A.L. Mints, he went from being a mechanic to a general director of the institute. 2000 – 2008 - General Director of Concern Radio Engineering and Information Systems OJSC. 2008 – 2011 - Vice-President, Head of the High Technologies and Industry business unit of Sistema JSFC. Since 2011, General Director of OJSC RTI. In 2012, he was appointed General Designer of the National Missile Attack Warning System (SPRN). He is the chairman of the boards of directors of the Radiotechnical Institute named after Academician A.L. Mints, the Scientific Research and Production Complex the Long-Distance Radio Research Institute, the Joint Stock Company Invision Group. Member of the Boards of Directors of Sistema JSFC and Almaz-Antey Air Defense Concern OJSC.