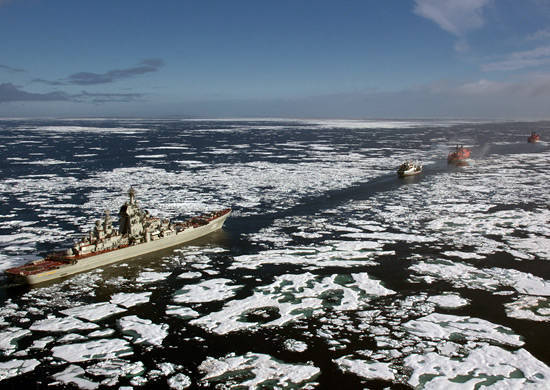 Today completed icebreaking pilotage of the Northern ships
fleet
(SF), led by the Peter the Great heavy nuclear missile cruiser (TARKR), with four nuclear-powered icebreakers through areas with the most difficult ice conditions in the Matisen Strait and on the approaches to the Boris Vilkitsky Strait, located between the Taimyr Peninsula and the Severnaya Zemlya archipelago.
As the Commander of the Northern Fleet admiral Vladimir Korolev noted, under the flag of which the Arctic expedition of the detachment of the Northern Fleet ships passes, "the uniqueness of the operation is that the entire nuclear surface fleet of the Russian Federation — the nuclear-powered missile cruiser" Peter the Great "and four nuclear-powered icebreakers of the State Corporation Rosatom - Yamal, Vaigach, 50 Years of Victory and Taimyr.
The icebreaking wiring of 10 for warships and vessels providing SF was carried out over 40 hours. About 400 miles the detachment of ships was accompanied by nuclear-powered icebreakers, reliably ensuring navigation and ice safety.
During the passage of areas with difficult ice conditions, the air group based on the Peter the Great TARKR actively worked. Ship pilots made four sorties on Ka-27 helicopters to conduct ice reconnaissance on the route of the detachment of ships, as well as a number of landings on the decks of nuclear-powered icebreakers.
In the coming days, the detachment of the SF ships will continue sailing eastward over the Laptev Sea. To ensure the safety of navigation, ship helicopter pilots will continue to carry out sorties to conduct aerial reconnaissance and monitoring of the ice situation in iceberg-prone navigation areas.
A detachment of warships and vessels providing SF left Severomorsk on September 3. During the trip, he made the transition to the Barents and Kara Seas and overcame more than 1,5 thousands of nautical miles.
This is the second large-scale campaign of the SF ships in the Arctic over the past two years. Last year, the ships of the Northern Fleet also led by the flagship - the cruiser "Peter the Great" conducted a series of exercises near the Northern Sea Route, and for the first time the Marines
stories
of the Russian Navy carried out the landing of the amphibious assault on the unequipped coast of the island Boiler house of the archipelago of the Novosibirsk islands.