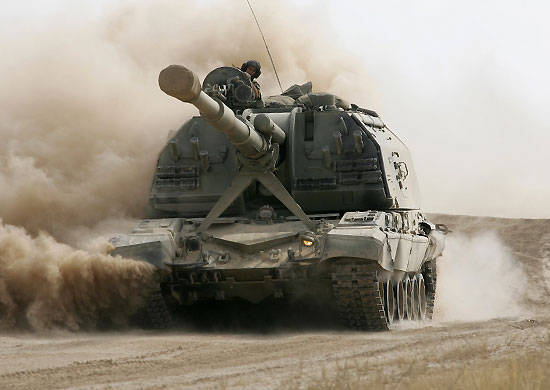 In the Krasnodar Territory at the Molkino testing ground, for the first time, the artillerymen of the Southern Military District (SKR) used modernized 152-mm self-propelled howitzers Msta-S, which entered service with the district troops in May 2013, during a large-scale tactical exercise.
In order to inflict a massive fire attack on the forces of a conditional enemy, more than 35 upgraded self-propelled howitzers were involved.
The upgraded artillery system "Msta-S" has significant structural differences from the previous modification. It has a new automated fire control system, increased target rate of fire, as well as the possibility of using digital electronic maps, which significantly speeds up the orientation of the terrain in difficult physiographic conditions and allows you to perform fire missions more quickly and more efficiently.
In the exercises of artillery units of the 49 th army army of the Southern Military District, new rocket launcher systems Tornado-G are also involved, which are more than their predecessor in combat effectiveness in the 2,5-3 - the BM-21 "Grad" system. 1,5 is less than the time required to bring the system on alert and inflict fire damage, and the radius of destruction of one Tornado-G machine is about 1 ha.
In addition, in the training battle, the artillerymen of the Southern Military District use 152-mm self-propelled howitzers "Akatsiya", 122-mm "Gvozdika" and 82-mm mortars.
In addition to the use of powerful modern weapons, artillerymen work out tactical methods of misleading a conventional enemy. Subtly moving to a given area, units actively use, in order to disguise, the features of the terrain landscape, as well as means of imitating false objects. At a distance of about 10 km, gunners from the flanks inflicted massive fire damage at times to the superior forces of the conventional enemy.
During the exercise, military personnel will perform more than 30 fire missions and 15 standards, including the change of firing positions.
About 2 thousand troops and more 300 units of artillery weapons, military and special equipment were involved in the large-scale tactical training of artillery units. The exercise will last until the end of September.