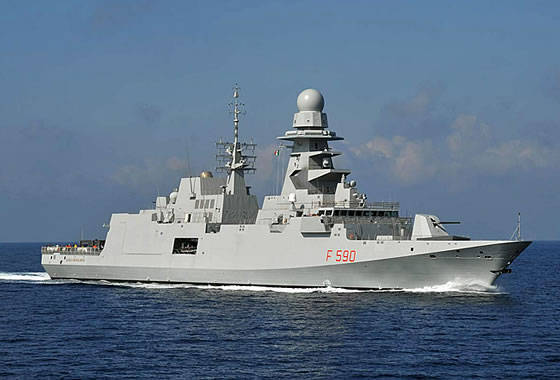 Fincantieri announced the 6 of September at the Riva Trigoso shipyard for the laying ceremony of the keel of the sixth frigate of the FREMM class intended for the supply of the Italian Navy.
Cutting steel for the sixth frigate class FREMM began 6 March 2013 of the year. It is expected to be delivered by the Italian Navy in the first quarter of the year 2017.
FREMM is the largest European program for the construction of multi-purpose frigates, which since 2002 has been jointly implemented by France and Italy under the auspices of the European Arms Procurement Office (OCCAR).
For the Italian Navy, it was originally planned to build 10 FREMM frigates. The first two frigates were ordered in May 2006. In February, 2008, the Italian Defense Ministry signed an agreement to build a second batch of four ships of the series. Buying a third batch of four frigates is still in question.
As planned, FREMM ships will be replaced as part of the Italian
fleet
frigates of the Lupo and Maestral types built by the Finkantieri in the 1970s
Construction of the lead frigate for the Italian Navy (F-590) "Carlo Bergamini" began at the shipyard in Riva Trigoso in February 2008, the launch took place in July 2011. 29 May 2013, the frigate was transferred to the Italian Navy. At present, tests of the second ship of the FREMM Virginia Phezan class are being completed. 29 June 2013, the ceremony of launching the third frigate of the series - "Carlo Margottini".
The FREMM class frigate in the version for the Italian Navy has a length of 144 m, a width of 19,7 m and a total displacement of about 6700 t. The powerplant of the CODLAG type allows developing a cruising speed of 16 knots and a maximum 27,5 knots. The range of the frigate at a speed of 15 knots is about 6000 nautical miles, autonomy is 45 days, the crew is 145 people.