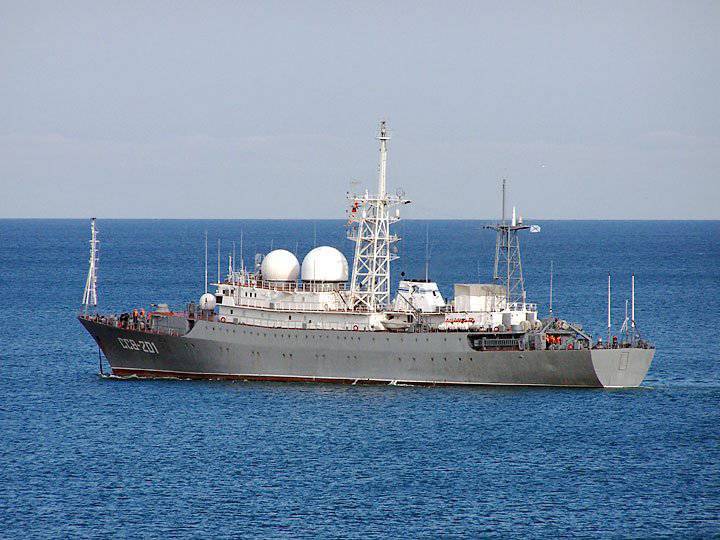 Russia's Defense Ministry has decided to increase the number of scout ships in the Mediterranean Sea for better lighting conditions near the coast of Syria, a source in the General Staff of the Russian Armed Forces.
"Strengthening the actions to open and cover the situation in the sea areas adjacent to the Syrian coast will be due to a slight increase in the number of Russian reconnaissance ships in the Mediterranean Sea," said a source, ITAR-TASS.
"In particular, on Sunday the Black Sea reconnaissance ship set off for the Syrian shores
fleet
"The Azov Sea," he specified.
Last week, a source in the Russian General Staff reported that the command of the Russian Navy, in connection with the situation around Syria, decided to update the ship composition of the permanent operational connection in the Mediterranean. In the coming days, a large anti-submarine ship of the Northern Fleet will replenish the Navy grouping. And later, "the missile cruiser of the Black Sea Fleet" Moscow "will join it, which is now completing tasks in the North Atlantic and will soon begin the transatlantic transition towards the Strait of Gibraltar.
Note that the French frigate Chevalier Paul ("Chevalier Paul"), one of the most modern in the French fleet, also sailed to the eastern part of the Mediterranean.
In addition, there are five US warships equipped with cruise missiles in the region — the destroyers Stout, Makhan, Gravely, Barry, and Reymage. Also 18 August in the Arabian Sea arrived a group of ships as part of the aircraft carrier "Harry Truman", missile cruisers "Gettysburg" and "San Jacinto", destroyers "Balkeli" and "Mason". In addition to them, in the zone are "Nimitz" and a group of support ships. Moreover, the duty of some ships had already come to an end, but they remained in the region by order of the command of the US Navy.
The situation around Syria escalated after August 21 media, citing opposition to the statements reported the alleged use of chemical weapons in the suburbs of Damascus. Thereafter, in the West, where the application formerly known as sarin Syrian authorities under direct intervention in the conflict, openly talking about a possible military intervention in the Arab republic.