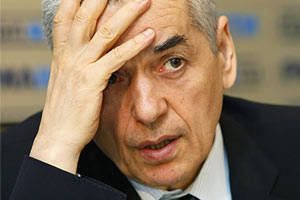 Quite unexpected
news
Came from Rospotrebnadzor. It turned out that the head of this department, he is also the chief sanitary doctor, Gennady Onishchenko, is extremely concerned about Russia's entry into two international organizations: the WTO and the Customs Union. In order to resist substandard products as efficiently as possible, which, after Russia's entry into the above-mentioned international institutions, may end up on Russian territory, Onishchenko decides to carry out a large-scale reorganization of the work of the internal Russian sanitary departments, as well as departments that carry out quality control of a particular product.
After
legal advice
with experts in the field of legal protection of the Russian consumer, it was found that Russians can very well expect an increase in state countermeasures for poor-quality goods that may come from abroad. The format in which the reorganization will take place, which was talked about in Rospotrebnadzor, is not entirely clear. It is also not entirely clear whether the reorganization measures targeted by Gennady Onishchenko will be effective measures.
In the light of the latest food and customs war between Russia and Ukraine, new confrontations of the Russian market with foreign suppliers can result in quite tangible international conflicts. And if conflicts with foreign countries can be treated quite philosophically, then here are the likely conflicts with manufacturers from Kazakhstan and Belarus cause concern. The partners from the mentioned republics will clearly not be delighted with the unilateral reformatting of relations in the sphere of trade, and within the framework of the Customs Union, to which Moscow so actively encourages various states to join, first and foremost Ukraine.
On the other hand, new measures to control the quality of foreign products can quite effectively build a barrier to counterfeit and other low-quality goods, which in recent years have literally flooded Russian counters. If such a barrier is built on a high-quality legal platform, then no WTO rules, often called draconian, will become a big problem for the Russian market.