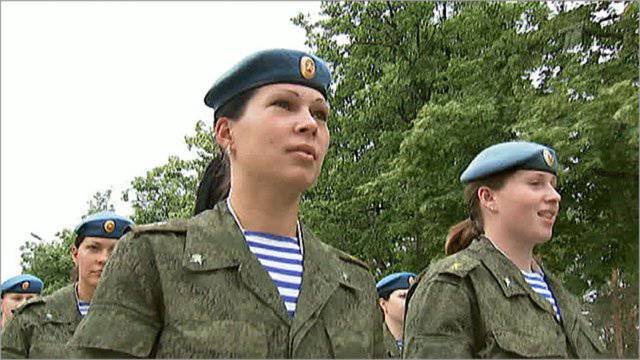 For the first time in
stories
Russian Airborne Forces immediately 16 women received command positions, said on Friday, a spokesman for the Ministry of Defense Airborne Forces Major Irina Kruglova.
"For the first time in the modern history of the Airborne Forces in August of this year, the troops arrived and began to perform their official duties as women's lieutenants 16," Kruglova said, ITAR-TASS.
According to her, all those who received command posts of the paratroopers are 2013 graduates of the year.
In addition, 14 of them - officers of the airborne service, graduates of the Ryazan Airborne School. Margelova, one - a graduate of the Military Academy of the Radiation, Chemical and Biological Defense Forces, another one is a military psychologist from the Military University of the Russian Defense Ministry.
Kruglova noted that all of them were appointed to command positions and became platoon commanders. Most of them will serve in the Tula and Novorossiysk airborne units.