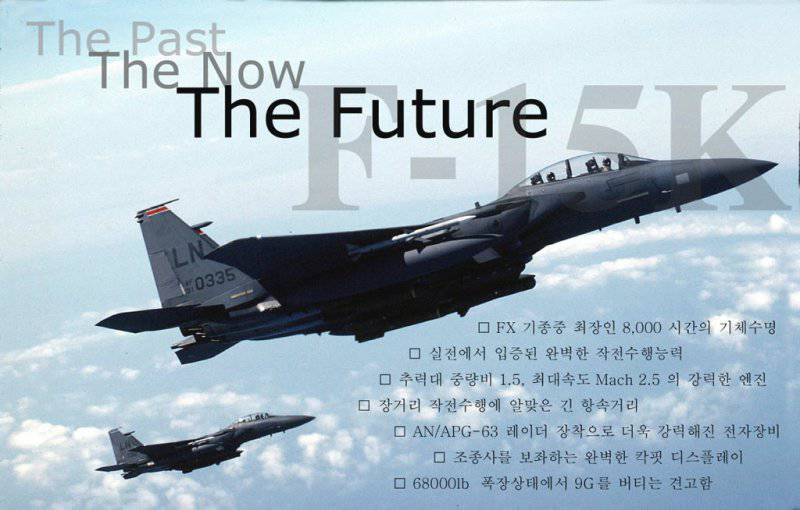 The controversial reports from the South Korean Defense Procurement Agency DAPA and bidders for the purchase of 60 multi-purpose fighters for the South Korean Air Force worth 7,3 billion dollars create a somewhat confusing picture, reports defenseindustrydaily.com on August 19.
18 August DAPA stated that the Typhoon European fighter was missing at the auction due to procedural irregularities, but EADS has denied this message. At the same time, the American company Lockheed Martin did not admit defeat, stating that this is a "standard procedure" and the competition for F-35 is not over yet. All this requires clearer explanations from all parties involved in the tender.
16 August, South Korean media reported that the Boeing F-15 Silent Eagle and EADS Eurofighter Typhoon fighters remained in the competition, who were able to meet the budget of the tender and reached the final of the competition. DAPA limited itself to a vague message that only one bidder meets the financial conditions of the tender, but Yonhap news agency claimed that Lockheed Martin F-35 dropped out of the competition due to going beyond the budget. The Korea Times newspaper quoted an unnamed "source from industry" that F-15 Silent Eagle and Eurofighter Typhoon remained in the competition, between which an "interesting fight" would unfold.
DAPA does not force events and decided not to buy fighters at this stage, but this is fraught with the loss of the tender budget. It is reported that the agency's request to increase the budget was rejected. Among the cars presented at the competition, Typhoon is the best fighter of air superiority, but the F-15 Silent Eagle has a much larger range of weapons used and better meets the requirements of multi-functionality. As expected, the versatility and prospects for upgrading the existing F-15K fighter aircraft of the South Korean Air Force to the Silent Eagle level (although without installing an electric remote control system and canted keels) can give Boeing good chances for victory.