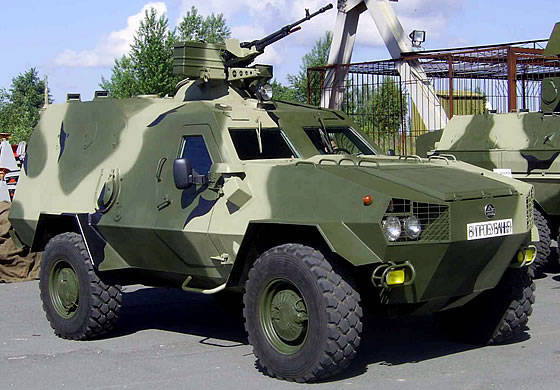 In recent days, several publications have at once posted information about the cooperation between Poland and Ukraine in the field of production of the BBM "Dozor-B" with the wheel formula 4x4. "
In particular, according to Janes Defense Weekly, the Polish company Mista started the licensed production of the Dozor-B armored vehicle in an armored personnel carrier version and is in the final stages of signing a contract for its delivery with the first foreign customer.
The Polish version of Dozor-B will be called Ocilla and will be modified to ensure compliance with NATO standards for ballistic and anti-mine protection. The first prototype was assembled at the end of July using components supplied by the Ukrainian side.
Presumably, Mista and the owner of licensing rights are in the final stages of negotiating a contract for the supply of an initial party of BBM with an unnamed country. The agreement will include options for the additional supply of several dozen armored vehicles. The contract is scheduled to be signed before the end of the year.
The company "Mista" acquired the rights to the licensed production of the BBM "Dozor-B" in 2011 year from an unnamed company from one of the EU countries (obviously, we are talking about the repurchase of rights - note TSAMTO). The Polish company took two years to prepare the production line and purchase the necessary equipment.
Mista plans to manufacture the first five pre-production models of the OCILLA BBM this year, gradually upgrading the basic design by equipping the machine with armor plates and Polish-made equipment complying with NATO standards, as well as driving axles and wheels. At the next stage of development, it is planned to equip the machine with a remote-controlled combat module, which will replace the single-seat tower.
BBM "Dozor-B" developed by the Kharkov Engineering Design Bureau named. A.A. Morozov. The combat weight of the machine in the basic version is 6300 kg. Calculation machines - 11 people, including the crew of three people (driver, commander, gunner) and 8 man landing. For comparison: the modernized BBM "Otsilla" weighs 9 t, it is equipped with a new engine, a hinged booking package, seats, mitigating the effects of a mine explosion, and can be equipped with various weapons.
The prototype should undergo complex tests at the Military Institute of Armored and Automotive Vehicles (Suleiuwek).