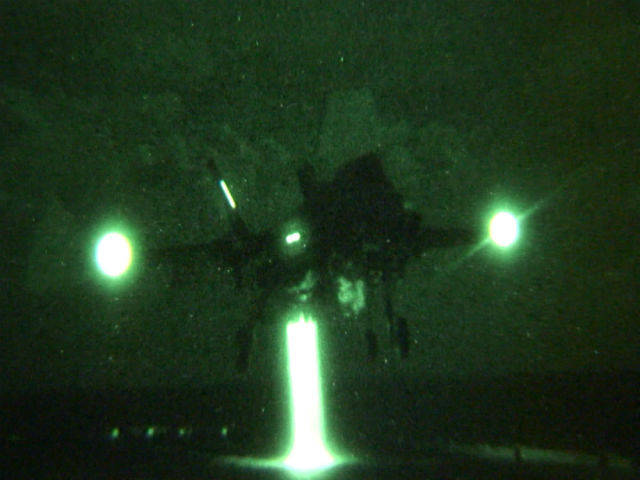 A test pilot of the US Marine Corps for the first time performed a night landing of a fighter with a short takeoff and vertical landing of the F-35B on the deck of the USS Wasp multipurpose assault ship, flightglobal.com reports. Landing performed by Lieutenant Colonel S. R. (CR Clift).
The second series of sea trials of the fighter began on March 12, landing performed on August 14. "Everything went very well. The 8 successful landings were completed overnight, so we are very optimistic about the prospects for training combat pilots, "he says.
The program is designed for 18 days. During the tests, the boundaries of the permissible wind during landing and take-off will be expanded;
stories
F-35B performing the entire flight program at night and evaluating the aircraft's behavior when landing on a moving surface, storage parameters in the hangar, according to the F-35 Unified Program Guide. Then the third stage of the sea tests will be completed (the first stage was completed in October 2011 of the year). The F-35B fighter as part of the USMC must acquire the status of initial combat readiness in October 2015.
During the implementation of the first stage of marine tests, it was revealed that the UDC "Uosp" needs some improvements to receive and take off the F-35B. As a result, the ship received a new composite deck coating with increased heat resistance from the impact of the gas jet engine of a fighter. It was also decided that some signal lights and sensors on the ship should be moved to new locations.