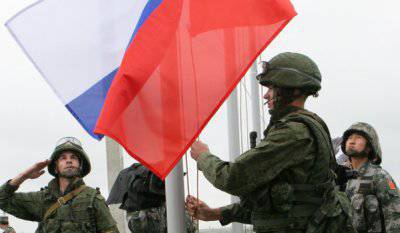 The final stage of the joint exercises of the Armed Forces of Russia and the People's Liberation Army of China (PLA) "Peace Mission - 2013" was completed at the test site in Chebarkul, Chelyabinsk Region, a spokesman for the Central Military District (CZO) said.
"Using the drones, the intelligence officers of the Russian Armed Forces and the PLA found out the size of the gang, its weapons and the location of the firing points," said a spokesman for the Central Military District, writes Rossiyskaya Gazeta.
According to him, after air strikes and artillery training, the Russian-Chinese motorized rifle and
tank
units blocked the camp of conditional militants.
"A joint seizure group of special-purpose units and sniper groups that landed from the Mi-8 and Mi-171 helicopters took the enemy command post by storm," he said.
With the help of 500-kilogram bombs, JH-7A fighter-bombers and Su-24M front-line bombers hit the enemy's conditional reserves, and the gang and 122 mm Uragan multiple-launch rocket systems inflicted damage to the gang fire.
The Mi-26 transport helicopter evacuated damaged military equipment from the battlefield.
Recall the joint exercises of Russia and China began on June 27. According to the legend, the detachments of illegal armed groups turned the settlement into a base camp. More than 1,5 thousands of military personnel and about 250 units of military equipment, including 20 airplanes and helicopters, participated in the exercise.
The first peace mission was held in 2005 in the Chinese province of Shandong. In 2013, the South Ural receives the "Mission" for the second time: in 2007, the Chebarkul training ground has already become the venue for Russian-Chinese exercises.