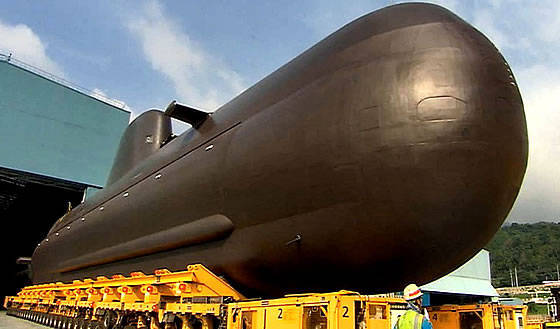 During the ceremony, held on August 13 at the company "Daewoo Shipbuilding and Marin Engineering" on Kodj Island in the presence of President Park Geun-Xe, the 1800-tonne 214 class submarines were launched.
According to "Renhap", NNP was named "Kim Jwa-jin" (Kim Jwa-jin). It is the fourth Type-214 naval submarine designed for the Republic of Korea Navy.
Currently, the RK Navy has adopted three Type-214 class submarines, built in accordance with the contract signed with the German company Thyssen-Krupp Marin Systems in the framework of the first phase of the KSS-II program in November 2000. All three submarines were built under the German license at the facilities of the company Hyundai Heavy Industry in Ulsan and were put into service in 2007-2009.
At the second stage of the KSS-II project, by the 2018 year, it is planned to build another 6 naval Type-214 for the Navy of the Republic of Korea.
In December 2008, the company Hovaldsverke-Deutsche Werft (a unit of Thyssen-Krupp Marin Systems) signed a contract with the Defense Procurement Programs Agency (DAPA) of the Republic of Korea Ministry of Defense for the supply of sets of materials and equipment for the construction of six Type-214 submarines. According to the results of the tender, DAPA chose Daewoo Shipbuilding and Marin Engineering as the contractor for the construction of the fourth Type-214 submarines. She will build the fifth submarine of the series.
Type-214 submarines have a length of 65,3 m, an underwater displacement - 1800 t. Boats are manufactured using stealth technology, equipped with a combined diesel-electric / anaerobic (air independent on fuel cells) power plant. Speed ​​in submerged position - up to 20 nodes, in surface position - 12 nodes. The ISUS-90 Combat Control System allows operators to receive various information and detect up to 300 targets simultaneously. The naval submarines will be armed with surface-to-ground missiles, torpedoes, modern GAS and reconnaissance equipment.
The Navy of the Republic of Korea plans to take the first submarine of the second series at the end of 2014 of the year and begin its combat use in 2015.
Currently, the Republic of Korea has more than 10 submarines in service, including X-NUMX-tonne Type-1200 and 209-ton Type-1800 submarines.
At the next stage, within the framework of the national KSS-III project, the fleet plans to acquire nine 3000-ton heavy multipurpose submarines, which will be delivered from 2020 to 2030.
According to South Korean sources, there are more than 70 submarines of various types in service with the North Korean Navy.